Hedge Hunters: Hedge Fund Masters on the Rewards, the Risk, and the Reckoning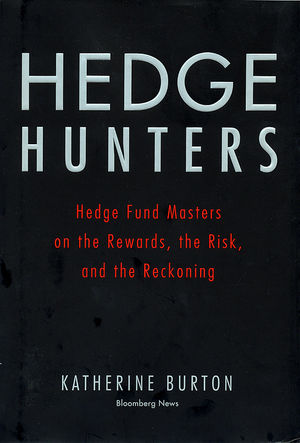 Hedge Hunters: Hedge Fund Masters on the Rewards, the Risk, and the Reckoning
ISBN: 978-0-470-88518-5 June 2010 206 Pages
Description
One of Amazon.com's Best Books of 2007
Top 10 Editor's Picks: Finance and Investing
The hedge fund industry's top managers have a penchant for high returns and low profiles. The combination makes them a regular focus of the media, eager to know what makes them tick. Now, thanks to Katherine Burton, who's been covering these noteworthy traders for Bloomberg News for more than a decade, we know considerably more about them. With candor and detail, the industry's most successful hedge fund managers describe the events that shaped their personal journeys, the strategies they use to produce returns even in uncooperative markets, and the attributes that make a smart investor. Hedge Hunters offers a rare look at the industry's top performers and an introduction to some of the most talented new managers, handpicked by the masters themselves.
Preface.
Acknowledgments.
Chapter 1 Introduction (Mark Yusko).
What It Takes to Be the Best.
Chapter 2 Masters (Michael Steinhardt).
A Passion for Performance.
Chapter 3 Steinhardt's Pick (John Armitage).
Reasoned and Unrattled.
Chapter 4 Masters (Marc Lasry).
An Intolerance for Losing.
Chapter 5 Lasry's Pick (Craig Effron).
A Grip on Risk.
Chapter 6 Masters (Lee Ainslie).
A Stock Picker, Pure and Hardly Simple.
Chapter 7 Ainslie's Pick (Bernay Box).
The Big Time in Small Caps.
Chapter 8 Masters (Boone Pickens).
The Imperturbable Oilman.
Chapter 9 Pickens's Picks (Brian Bradshaw, David Meaney, Michael Ross, and Alex Szewczyk).
A Place at the Table.
Chapter 10 Masters (Josh Friedman and Mitch Julis).
Doyens of Debt.
Chapter 11 Friedman's and Julis's Picks (Jeffrey Schachter and Burton Weinstein).
Leaving Little to Chance.
Chapter 12 Masters (Dwight Anderson).
The Phoenix Phenomenon.
Chapter 13 Anderson's Pick (Roberto Mignone).
Fruits of Firsthand Knowledge.
Chapter 14 Anderson's Pick (Bruce Ritter).
Mastering a Changing Market.
Chapter 15 Masters (Julian Robertson).
Encores.
Chapter 16 Masters (Jim Chanos).
Out on the Short-Selling Limb.
Chapter 17 Masters (Richard Perry).
A Manager's Manager.
Chapter 18 Masters (Daniel Loeb).
Newfound Restraint.
Index.
"Well-written. . . . Burton breaks new ground by profiling thirteen up-and-coming managers selected by ten acknowledged 'leaders and legends.'" (
Publishers Weekly
)
"A fine introduction to hedge funds for both the interested reader and those contemplating a career in this area of investment." (Library Journal)
"A readable, relevant book, with lessons a new generation of hedge-fund managers... would do well to take to heart." (Barron's, December 3, 2007)