Hegel: An Intellectual Biography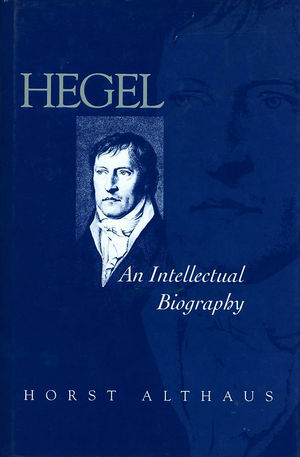 Hegel: An Intellectual Biography
ISBN: 978-0-745-68338-6 February 2014 Polity 304 Pages
Description
This accessible and highly readable book is the first full-length biography of Hegel to be published since the largely outdated treatments of the nineteenth century. Althaus draws on new historical material and scholarly sources about the life and times of this most enigmatic and influential of modern philosophers. He paints a living portrait of a thinker whose personality was more complex than is often imagined, and shows that Hegel's relation to his revolutionary times was also more ambiguous than is usually accepted.
Althaus presents a broad chronological narrative of Hegel's development from his early theological studies in Tübingen and the associated unpublished writings, profoundly critical of the established religious orthodoxies. He traces Hegel's years of philosophical apprenticeship with Schelling in Jena as he struggled for an independent intellectual position, up to the crowning period of influence and success in Berlin where Hegel appeared as the advocate of the modern Prussian state. Althaus tells a vivid story of Hegel's life and his intellectual and personal crises, drawing generously on the philosopher's own words from his extensive correspondence. His central role in the cultural and political life of the time is illuminated by the impressions and responses of his contemporaries, such as Schelling, Schleiermacher and Goethe.

This panoramic introduction to Hegel's life, work and times will be a valuable resource for scholars, students and anyone interested in this towering figure of philosophy.
Table of contents
1. Origins.
2. The Tübingen Shift.
3. Between Monarchy and Republic.
4. The Tutoring Years.
5. Schelling's Apprentice.
6. Jena Contra Tübingen.
7. Between Bern and Frankfurt.
8. Theological Writings.
9. A Stuttgart Romance.
10. Farewell to Frankfurt.
11. The Frankfurt Writings.
12. The Unpaid Lecturer.
13. Domestic Affairs.
14. A Difference with Schelling.
15. The Phenomenology of Spirit.
16. Journalist in Bamberg.
17. A Turning Point.
18. Headmaster in Nuremberg.
19. The Unconditional Claim of Reason: The Science of Logic.
20. Professor in Heidelberg.
21. Feudalism or Monarchy?.
22. From Baden to Prussia.
23. The Prussian State Philosopher?.
24. The Philosopher of Right.
25. The Philosophy of History.
26. A Journey to the Low Countries.
27. The Philosophy of Art.
28. The Austrian Journey.
29. the History of Philosophy.
30. The Journey to France: the stay in Weimar.
31. The Philosophy of Religion.
32. Absolute Monarch in the Empire of Philosophy.
33. The End.
Bibliography.
Index.
Reviews
"Brevity turns out to be one of Althaus's merits. He is particularly good at providing the necessary historical and sociological details so that the reader can appreciate the full significance of events in Hegel's life as well as his thought.this study provides a great deal of insight into what life was like for many thinkers and artists during this intellectually fruitful time in Germany's history. Althaus's biography is eminently readable and thus useful not only for researchers but also for graduate students, faculty and general readers."
--
S. Barnett, Central Connecticut State University,
(
Choice Magazine
)
"[Althaus] contextualizes Hegel's intellectual journey.... A major theme in Althaus is the disintegration of Hegel's following, into left and right, through the ambiguity of his dialectic, exemplified in his philosophy of religion." (History of Political Thought)

"Althaus offers a wide-ranging 'intellectual biography' which skilfully interweaves scenes, events and personalities from Hegel's life with studies of the formation, development, and significance of each of Hegel's particular philosophical concerns ... If one seeks further to understand Hegel and his thought, then I recommend turning to Althaus." (Heythrop Journal)

"This book is, in a word, the most comprehensive biography of Hegel published in the twentieth century." (Diálogo Filosófico)
Features
* The first book-length biography of Hegel since the nineteenth-century.
* Introduces the reader to the development of Hegel's philosophy, placing it in the context of political events of the time.
* Written in a lively style, vividly bringing to life Hegel's relationship to contemporary philosophers and his revolutionary times.