Helping Children and Adolescents with Chronic and Serious Medical Conditions: A Strengths-Based Approach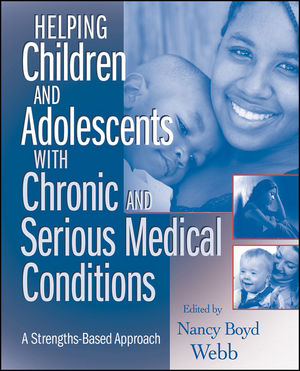 Helping Children and Adolescents with Chronic and Serious Medical Conditions: A Strengths-Based Approach
ISBN: 978-1-118-01216-1
Oct 2010
384 pages
Description
Praise for Helping Children and Adolescents with Chronic and Serious Medical Conditions
A Strengths-Based Approach
"Helping Children and Adolescents with Chronic and Serious Medical Conditionsprovides a wellspring of knowledge, from the theoretical to the clinical. The many vignettes and transcriptions immeasurably enrich the reader's understanding of the interventions and their broader applicability."—Barbara M. Sourkes, PhDJohn A. Kriewall and Elizabeth A. Haehl Director of Pediatric Palliative CareLucile Packard Children's Hospital at Stanford
An important and practical guide to providing compassionate care and support to medically compromised children and their families
Helping Children and Adolescents with Chronic and Serious Medical Conditions: A Strengths-Based Approach presents practical guidance on integrating the latest research into evidence-based practice to ensure the best client care. Edited by a top scholar in the field, this essential resource contains contributions from renowned specialists in various helping fields. Utilizing an inter-professional perspective, helping professionals will draw from the experiences and expertise of a wide range of medical professionals, providing a "window" into their roles, responsibilities, and challenges, offering the most effective approaches for working with this special population of children and their families.
Equipping practitioners with the knowledge and skills needed to encourage children's resilience and help them build their emotional strengths, this book uses a caring yet authoritative tone and discusses:
The emotional impact of illness on the individual and the family

Child-life practice in hospitals

School-based interventions for children and adolescents with medical conditions

How to meet the spiritual as well as emotional needs of children with chronic and life-threatening illness
With thoughtful coverage of positive helping approaches that encourage family and individual strengths, Helping Children and Adolescents with Chronic and Serious Medical Conditions: A Strengths-Based Approach is an invaluable resource for social workers, teachers, school counselors, and other mental health and medical professionals who work with medically challenged children and adolescents in every setting.
Foreword, by Barbara Sourkes, PhD.
Preface.
Acknowledgments.
Part I. Overview And Introduction: Theoretical Framework for Collaborative Practice.
Chapter 1 When a Young Person's Health Becomes Problematic (Nancy Boyd Webb, and Rose A. Bartone).
Chapter 2 The Emotional Impact of Illness on the Individual and the Family (Cindy Dell Clark).
Chapter 3 The Economic, Social, and Cultural Context of Health Care (Virginia Rondero Hernandez).
Part II. Helping Approaches of Practitioners in Different Settings.
Chapter 4 A Behavioral Pediatrician's Perspective on Helping Children Recover from Traumatic Medical Experiences (Joan Lovett).
Chapter 5 Child Life Practice in Hospitals (Deborah Vilas).
Chapter 6 Working with Families of Medically Challenged Youth (Jennifer Baggerly).
Chapter 7 School-Based Interventions for Children and Youth with Medical Conditions (Suzanne C. Griffith, and Rosemary Doyle).
Chapter 8 School Social Work Interventions for Medically Compromised Children and Youth (Linda Openshaw).
Chapter 9 Strength-Based Group Work with Children (Ariel Allena Botta).
Chapter 10 Play and Expressive Therapies with the Medically Challenged Child and Adolescent (Nancy Boyd Webb).
Chapter 11 Meeting the Spiritual Needs of Children with Chronic and Life-Threatening Illness (Paul Thayer).
Part III. Challenges and Issues Associated with Chronic, Ongoing, Recurring Physical Conditions and Disabilities.
Chapter 12 Medical Conditions Present at Birth (Patrick Shannon).
Chapter 13 Conditions that Appear During Early Childhood (Roxia Bullock).
Chapter 14 Other Conditions that May Occur in Childhood or Adolescence (M. Carlean Gilbert).
Part IV. Acute Health Crises.
Chapter 15 Outpatient Counseling for Children and Youth with Life-Threatening Conditions (Douglas Davies, and Nancy Boyd Webb).
Chapter 16 Hospital Treatment of Children and Youth with Life-Threatening Conditions (Elaine C. Meyer).
Chapter 17 Helping in the ER After Accidents and Traumatic Injury (Leslie H. Wind).
Part V. Challenges and Guidelines for Helping.
Chapter 18 The Challenge of Maintaining Hope and Fostering Resiliency: Implications for Youth, Families and Practitioners (Nancy Boyd Webb).
Appendix.
Child-, Youth-, Family-Related and Health-Related Professional Organizations.
Training Programs and Certificates Related to Helping Medically-Challenged Youth and Families.
Child-, Youth-, Family Health-Related Professional Journals.
Additional Health-Related Resources for Youth and Families.
About the Editor.
About the Contributors.
Author Index.
Subject Index.
"Helping Children and Adolescents with Chronic and Serious Medical Conditions provides a wellspring of knowledge, from the theoretical to the clinical. The many vignettes and transcriptions immeasurably enrich the reader's understanding of the interventions and their broader applicability."
—Barbara M. Sourkes, PhD
John A. Kriewall and Elizabeth A. Haehl Director of Pediatric Palliative Care Lucile Packard Children's Hospital at Stanford
Focuses on multi-professional collaboration on behalf of medically compromised youth--from infancy through adolescence.
Includes contributions from specialists from across the helping fields--including doctors, nurses, psychiatrists, social workers, doctor of divinity--to support the inter-professional collaborative perspective.
Offers a strength -perspective, emphasizing what the child/youth can do, despite the illness/disability
Grounded in a solid understanding of child and adolescent development
Deals with the impact of the illness on the family system
Offers a range of psychosocial interventions, including work with the individual child/adolescent, group approaches, and family interventions
Chapters include case examples, photos, and figures to support the concepts and every chapter ends with discussion questions and role play exercises.