Helping Children and Families: A New Treatment Model Integrating Psychodynamic, Behavioral, and Contextual Approaches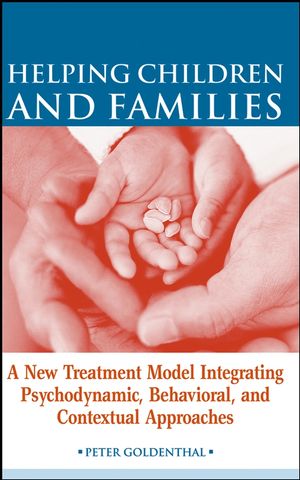 Helping Children and Families: A New Treatment Model Integrating Psychodynamic, Behavioral, and Contextual Approaches
ISBN: 978-0-471-73535-9
May 2005
304 pages
Description
Bridging the gap between child and family therapy

Written by a nationally recognized expert on treatment, Helping Children and Families: A New Treatment Model Integrating Psychodynamic, Behavioral, and Contextual Approaches presents a practical approach for helping children and their families work through a diverse array of issues. Goldenthal's clinical model offers specific techniques for working with children and adolescents, and shows the important connection that involving families in their treatment can make in therapeutic outcomes. Unlike other books that focus either on children or families, this insightful new work demonstrates how to help children in their own unique family context.

The book features detailed advice on:
* How to create a therapeutic environment that supports every person in a family
* How to reassure an anxious parent
* How to engage very young children
* How to determine when a parent needs individual therapeutic work and how to engage the parent in this process
* The five most effective ways to confront a client and reach a positive outcome
* When to let a parent decide on the frequency of counseling visits and when to set an agenda
* When to invite other people to participate in therapy
* When to refer clients for medication evaluation or neuropsychological testing


Goldenthal's integrated model offers a commonsense approach to treating childhood disorders. Addressing problems from early childhood to late adolescence, Helping Children and Families provides an engaging and accessible guide to putting this approach into practice.
Preface.
Acknowledgments.
SECTION ONE: Preparation.
1. Psychodynamic and Social Learning Concepts and Techniques for Working with Children and Families.
2. Contextual Concepts and Techniques for Working with Children and Families.
3. Twenty-Three Basic Principles of Working with Children and Families.
4. Beginnings: First Sessions with Children, Adolescents, and Families.
5. Case Formulation with the Integrated Model.
6. Working with Parents.
SECTION TWO: Treatment Techniques for Resolving Specific Problems.
7. Applying the Integrated Model to the Treatment of Children and Families.
8. Problems of Early Childhood.
9. Problems of School-Age Children.
10. Problems of Adolescence.
11. Problems That May Be the Focus of Attention at Any Age.
SECTION THREE: Synthesis.
12. Your Own Therapy Model.
Appendix A: Checklist for First Sessions.
Appendix B: The Psychology of Psychological Testing for Children.
Appendix C: Protocol for Relaxation Training.
References.
Author Index.
Subject Index.
"…engaging…contains sound clinical advice…" (PsycCRITIQUES, 8th February 2005)