Hematology Techniques and Concepts for Veterinary Technicians, 2nd Edition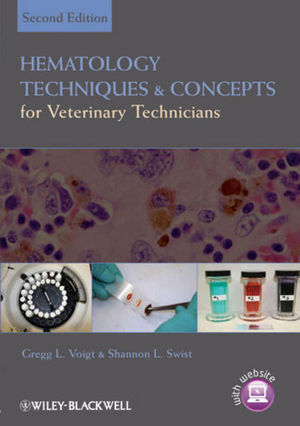 Hematology Techniques and Concepts for Veterinary Technicians, 2nd Edition
ISBN: 978-0-470-96049-3 April 2011 Wiley-Blackwell 200 Pages
Description
Now in full color, Hematology Techniques and Concepts for Veterinary Technicians, Second Edition is a thorough update to this introduction to the fundamental concepts of collecting, handling, and preparing hematology samples. Covering the basics of blood composition, cell morphology, and sample collection, handling, and preparation, the book is designed specifically for veterinary technicians and students to gain a full understanding of why each test is performed and ensure accurate test results. In addition to addressing advances in technology, equipment, and test techniques throughout, a new chapter covers automated testing, and a companion website provides review questions and images from the book for download at www.wiley.com/go/voigt.

Key concepts have also been added to each chapter to better promote learning, and terms are now defined throughout the text, with the definitions collected into a glossary.  User-friendly and well-illustrated with charts, reference values, algorithms and photomicrographs, Hematology Techniques and Concepts for Veterinary Technicians, Second Edition is a key reference for veterinary technicians and veterinary technology students.
1. Introduction to the Hematology Laboratory.
2. Blood Composition.
3. Blood Volume and Effects of Blood Loss.
4. Blood Collection and Handling.
5. Blood Smears and Staining.
6. Routine Hematology Laboratory Tests.
7. Automated Laboratory Methods and Instruments.
8. Leukocyte Cell Types and Functions.
9. Introduction to the Immune System.
10. Erythrocyte Form, Function, and Indices.
11. Erythrocyte Abnormalities.
12. Anemias and Polycythemias.
13. Hemostasis and Coagulation.
14. Hematopoiesis and Bone Marrow Examination.
15. Collection and Handling of Cytology Samples.
Glossary.
Recommended Reading.
"Even if this book is aimed at technicians, it is extremely useful for vet students . . . A glossary completes this valuable source of practical knowledge." (Tomorrow's Vet , 2011)
"Instruments are illustrated with instruction on their use. Step-by-step illustrations show the test for antibody or antigen in serum. Good color photographs show the various cell types in various stages. As before, the book is directed to the newcomer and is a solid, useful reference." (Vin Book Reviews, 27 July 2011)
"I recommend this book to any technician or veterinary student. It is better than the first edition." (Doody's, 3 June 2011)
Discusses the basics of blood composition, with detailed descriptions of red and white blood morphology and function
Covers the fundamental concepts of collecting, handling and preparing samples for the hematology laboratory for common domestic species
Explains the relevance of each hematology test, in addition to how to recognize both normal and abnormal test results
New to this edition is a chapter dedicated to automated laboratory methods and instruments, explanations of newer techniques and tests, and more in-depth discussions of immunology and cytology
Includes access to a companion website providing review questions in Word and images in PowerPoint, with additional images not found in the print book, available at www.wiley.com/go/voigt