Hematopoietic Stem Cells VII, Volume 1176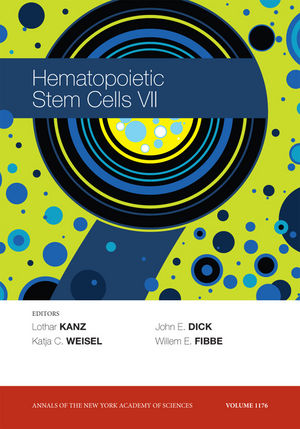 Hematopoietic Stem Cells VII, Volume 1176
ISBN: 978-1-573-31761-0 October 2009 Wiley-Blackwell 300 Pages
Download Product Flyer
Download Product Flyer
Download Product Flyer is to download PDF in new tab. This is a dummy description. Download Product Flyer is to download PDF in new tab. This is a dummy description. Download Product Flyer is to download PDF in new tab. This is a dummy description. Download Product Flyer is to download PDF in new tab. This is a dummy description.
Description
A fundamental property of hematopoetic stem cells is their capacity to self-renew, thus providing, in principle, a limitless source of daughter cells and with the same functional properties. This volume presents the most recent developments, and their clinical implications, in hematopoietic stem cell research. The field of hematopoietic stem cell biology is rapidly advancing and new ideas and concepts supported by new technologies provide new discoveries. Topics covered are genetic and epigenetic regulation of stem cells, stem cell plasticity, stem cell regulation and self-renewal, and embryonic stem cells as well as malignant stem cell biology.
NOTE: Annals volumes are available for sale as individual books or as a journal. For information on institutional journal subscriptions, please visit www.blackwellpublishing.com/nyas.
ACADEMY MEMBERS: Please contact the New York Academy of Sciences directly to place your order (www.nyas.org). Members of the New York Academy of Science receive full-text access to the Annals online and discounts on print volumes. Please visit http://www.nyas.org/MemberCenter/Join.aspx for more information about becoming a member.
Table of contents
Part I. Stem Cell Hierachy and Niche.
1. Lymphoid lineage fate decision of hematopoietic stem cells (Koichi Akashi).
2. Genetic Models to Study Quiescent Stem Cells and Their Niches (Christoph Schaniel and Kateri A. Moore).
3. Niche regulation of hematopoietic stem cells in the endosteum: the role of Thrombopoietin/Mpl signaling in the maintenance of quiescent hematopoietic stem cells (Fumio Arai, Hiroki Yoshihara, Kentaro Hosokawa, Yuka Nakamura, Yumiko Gomei, Hiroko Iwasaki, and Toshio Suda).
4. Functional Heterogeneity of the Bone Marrow Vascular Niche (K. Hans Georg Kopp, Andrea T. Hooper, Scott T. Avecilla, and Shahin Rafii).
Part II. Stem Cell Regulation.
5. Complex and Context Dependent Regulation of Hematopoiesis by TGF-Β Superfamily Signaling (Sofie Singbrant Söderberg, Göran Karlsson, and Stefan Karlsson).
6. WNT Proteins: Environmental factors regulating HSC fate in the niche (Tiago C. Luis and Frank J.T. Staal).
7. Removal of the Spleen in Mice Alters the Cytokine Expression Profile of the Marrow Microenvironmement and Increases Bone Formation (Fabrizio Martelli, Maria Verrucci, Giovanni Migliaccio, Maria Zingariello, Rosa Alba Rana, Alessandro Maria Vannucchi, and Anna Rita Migliaccio).
8. Novel trafficking routes for hematopoietic stem and progenitor cells (Steffen Massberg and Ulrich H. von Andrian).
9. Dysregulation of myeloid-specific transcription factors in congenital neutropenia: rescue by NAMPT/NAD+/SIRT1 (Julia Skokowa and Karl Welte).
Part III. Mesenchymal Stem Cells.
10. Mesenchymal stromal cells: a novel treatment modality for tissue repair (Maria Ester Bernardo, Franco Locatelli, and Willem E. Fibbe).
11. Perivascular Multipotent Progenitor Cells in Human Organs (Mihaela Crisan, Chien-Wen Chen, Mirko Corselli, Gabriella Andriolo, Lorenza Lazzari, and Bruno Péault).
12. Phenotypic characterization of distinct human bone marrow-derived MSC subsets (Hans-Jörg Bühring, Sabrina Treml, Flavianna Cerabona, Peter de Zwart, Lothar Kanz, and Malgorzata Sobiesiak).
13. In vitro myogenic differentiation of human bone marrow-derived mesenchymal stem cells as a potential treatment for urethral sphincter muscle repair (Adriana C. Drost, Sibylle Weng, Gerhard Feil, Jochen Schäfer, Simon Baumann, Lothar Kanz, Karl-Dietrich Sievert, Arnulf Stenzl, and  Robert Möhle).
Part IV. Malignant Hematopoiesis and Cancer Stem Cells.
14. Transformation from Committed Progenitor To Leukemia Stem Cells (Andrei V. Krivtsov, Zhaohui Feng, and Scott A. Armstrong).
15. The role of PLZF in human myeloid development (John E. Dick and Sergei Doulatov).
16. Anti-Tumor Immunity and Cancer Stem Cells (Tobias Schatton and Markus H. Frank).
17. Natural genetic diversity as a means to uncover stem cell regulatory pathways (Gary Van Zant and Ying Liang).
Part V. Aging.
18. Short Telomeres Resulting from Heritable Mutations in the Telomerase Reverse Transcriptase Gene Predispose for a Variety of Malignancies (Mark Hills and Peter M. Lansdorp).
Part V. Pluripotency.
19. Disease models from pluripotent stem cells: turning back time in disease pathogenesis? (Claudia Lengerke and George Q. Daley).
20. Tumors originating from induced pluripotent stem cells and methods for their prevention (Dirk Duinsbergen, Daniela Salvatori, Malin Eriksson, and Harald Mikkers).
21. Fetal Liver Very Small Embryonic/Epiblast Like Stem Cells (VSELs) Follow Developmental Migratory Pathway of Hematopoietic Stem Cells (Ewa K. Zuba-Surma, Magda Kucia, Liu Rui, Wojtek Wojakowski, Janina Ratajczak, and Mariusz Z. Ratajczak).
22. Hematopoietic Development from Human Induced Pluripotent Stem Cells (Claudia Lengerke, Matthias Grauer, Nina I. Niebuhr, Tamara Riedt, Lothar Kanz, In-Hyun Park, and George Q. Daley).