Henry George: Political Ideologue, Social Philosopher and Economic Theorist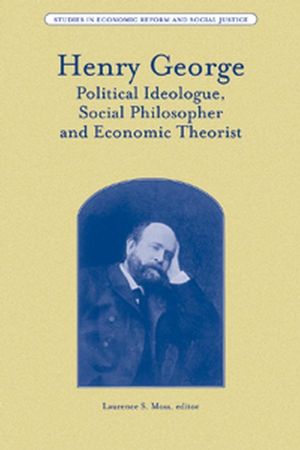 Henry George: Political Ideologue, Social Philosopher and Economic Theorist
ISBN: 978-1-405-18750-3 March 2008 Wiley-Blackwell 168 Pages
Description
Containing important papers by various Georgist scholars, this book highlights the ideas and influence of Henry George as a political economist.


Highlights the ideas and influence of Henry George

Includes path-breaking work on Henry George's rent theory

Features in the Studies in Economic Reform and Social Justice series
Table of contents
Editor's Introduction.
1. Ideology and Political Parties.
Henry George's Political Critics (Michael Hudson).
2. George's Ideas in Debate.
Henry George, Emile de Laveleye, and the Issue of Peasant Proprietorship (Jerome F. Heavey).
Frank H. Knight's Criticism of Henry George (Ross B. Emmett).
3. Social Philosophy.
Apprehending the Social Philosophy of Henry George (Charles R. McCann, Jr.).
4. Conceptual Debates Regarding Land and Rent.
The Marginalists Who Confronted Land (Fred E. Foldvary).
Keeping Land in Capital Theory (Ricardo, Faustmann, Wicksell, and George: Mason Gaffney).
5. Communications.
Comment (Mark Perlman).
Reviews
"Henry George is an economist who has given rise to a lot of written opinions. Therefore, one would think that is hardly impossible to say something new about his work. However, this book contradicts this idea, because it presents attractive and original viewpoints with regard to very different Georgist issues.... This book proves that – almost one hundred and thirty years later – George's work continues arousing a great interest." (History of Economic Ideas, January 2009)
What's New


Contains important papers by various notable Georgist scholars

Highlights the ideas and influence of Henry George

Includes path-breaking work on Henry George's rent theory

Features in the Studies in Economic Reform and Social Justice series