Hepatotoxicity: From Genomics to In Vitro and In Vivo Models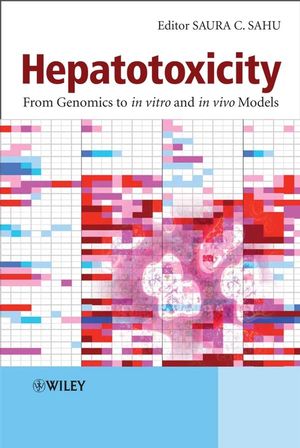 Hepatotoxicity: From Genomics to In Vitro and In Vivo Models
ISBN: 978-0-470-51674-4 February 2008 704 Pages
Download Product Flyer
Download Product Flyer
Download Product Flyer is to download PDF in new tab. This is a dummy description. Download Product Flyer is to download PDF in new tab. This is a dummy description. Download Product Flyer is to download PDF in new tab. This is a dummy description. Download Product Flyer is to download PDF in new tab. This is a dummy description.
Description
This book addresses all the current, up-to-date developments in this scientific discipline. Liver is the chief metabolizing site in the body, and thus, it is a major target organ for drug and chemical toxicity. Therefore, hepatotoxicity is an important endpoint in the safety evaluation of drugs and chemicals.
Contributions from leading investigators in hepatotoxicity research address current developments in this scientific discipline and discuss use of current cutting edge technology such as microarrays in hepatotoxicity thus providing a better understanding of hepatotoxins, their interactions and mechanisms of action.
This valuable authoritative source of information is the first book to address this topic for nearly ten years, making it an essential resource for readers from a wide range of disciplines such as toxicology, pharmacology, hepatology, drug toxicity and food science.
Table of contents
Contributors.
Preface.
Acknowledgements.
SECTION 1: MODELS FOR HEPATOTOXICITY TESTING.
1 Current in vitro Models to Study Drug-Induced Liver Injury (Julio C. Davila, Jinghai J. Xu, Keith A. Hoffmaster, Peter J. O'Brien and Stephen C. Storm).
2 Utilization of an in vitro Hepatotoxicity Test in the Early Stage of Drug Discovery (Ikuo Horii, Hiroshi Yamada, Rie Kikkawa, Toshinori Yamamoto, Tamio Fukushima and Kaori Tomizawa).
3 Use of Hepatocytes for Characterizing a Candidate Drug's Metabolism and Drug Interaction Potential (Srikanth C. Nallani, John M. Strong and Shiew Mei Huang).
4 Human-Based in vitro Experimental Systems for the Evaluation of Human Drug Safety (Albert P. Li).
5 Hepatocytes as a Model for Screening Food-Related Hepatotoxins and Studying Mechanisms of their Toxicity (Saura C. Sahu).
6 Some Experimental Models of Liver Damage (Pablo Muriel).
SECTION 2: HEPATOCYTE CULTURES.
7 Application of Short- and Long-Term Hepatocyte Cultures to Predict Toxicities (Gregor Tuschl, Jens Hrach, Philip G. Hewitt and Stefan O. Mueller).
SECTION 3: BIOMARKERS OF HEPATOTOXICITY.
8 Biomarkers of Mycotoxin Exposure in Liver Toxicity (Angela J. Harris).
SECTION 4: MECHANISMS OF HEPATOTOXICITY.
9 Mechanisms of Toxic Liver Injury (Nora Anderson and J¨urgen Borlak).
10 A Role of Cytochrome P450 in Quinone-Induced Hepatotoxicity (Yasuhiro Ishihara and Norio Shimamoto).
11 A Mechanistic View of Troglitazone Hepatotoxicity (Rawiwan Maniratanachote and Tsuyoshi Yokoi).
12 Role of the Kupffer Cell in Hepatotoxicity and Hepatocarcinogenesis (James E. Klaunig, Stacy M. Corthals, Lisa M. Kamendulis and Binu K. Philip).
13 Sinusoidal Cells in Liver Injury and Repair (Carol R. Gardner and Debra L. Laskin).
14 Cytokines in Liver Diseases (Pablo Muriel).
15 Bile Acids as Modulators of Apoptosis (Rui E. Castro, Susana Sol´a, Clifford J. Steer and Cec´ılia M.P. Rodrigues).
16 Drug-Induced Intrahepatic Cholestasis by Interaction with the Hepatic Bile Salt Export Pump (BSEP) (Christoph Funk, Johannes No´e, Ren´ee Portmann, Ruben Alvarez-S´anchez, Florian Klammers, Christiane Lamy, Axel Paehler and Michael Pantze).
SECTION 5: GENOMICS OF HEPATOTOXICITY.
17 Application of Toxicogenomics in Predicting Hepatotoxicity – Potentials and Challenges (Wen Lin, Guoxiang Shen, Tin Oo Khor and Ah-Ng Tony Kong).
18 Genomic Profiling of Liver Injury (Kevin Gerrish and David E. Malarkey).
19 Use of DNA Arrays in Understanding Hepatic Test Systems (Angela J. Harris and Daniel A. Casciano).
20 Prediction of Hepatotoxicity Based on the Toxicogenomics Database (Tetsuro Urushidani).
21 Relationship between N-acetyltransferase-2 Gene Polymorphism and Isoniazid-Induced Hepatotoxicity (Yasuo Shimizu, Kunio Dobashi and Masatomo Mori).
SECTION 6: GENDER DIFFERENCES IN HEPATOTOXICITY.
22 Human and Animal-Based Differences in Hepatic Xenobiotic Metabolism and Toxicity (Peter J. O'Brien, Katie Chan and Raymond J. Poon).
SECTION 7: HEPATOTOXICITY AND HEPATOCARCINOGENICITY.
23 Hepatotoxicity in Oncology Drug Development (Wei Chen, Kenneth Hastings and John K. Leighton).
24 The Potent Rat Hepatocarcinogen Methapyrilene: An Hypothesis Regarding its Hepatotoxicology (Daniel A. Casciano).
SECTION 8: HEPATOTOXICITY AND BOTANICAL SUPPLEMENTS.
25 Botanical Supplements and Hepatotoxicity (Shabana Khan, Ikhlas Khan and Larry Walker).
SECTION 9: RISK ANALYSIS OF HEPATOTOXINS.
26 Physiologically Based Pharmokinetic Modeling and Risk Assessment of Hepatotoxicants (Kannan Krishnan).
Index.
Reviews
"This provides valuable insight into the current and future directions of research in this field and wil be a valuable resource of up-to-date information for toxicologists, risk assessors, and regulators in academia, industry and government." (Doody's, August 2008)