Heterocycles in Life and Society: An Introduction to Heterocyclic Chemistry, Biochemistry and Applications, 2nd Edition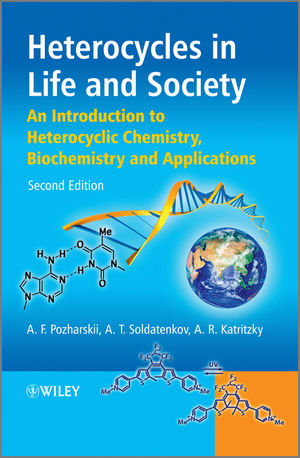 Heterocycles in Life and Society: An Introduction to Heterocyclic Chemistry, Biochemistry and Applications, 2nd Edition
ISBN: 978-1-119-97013-2 March 2011 400 Pages
Description
Heterocycles in Life and Society
is an introduction to the chemistry of heterocyclic compounds, focusing on their origin and occurrence in nature, biochemical significance and wide range of applications. Written in a readable and accessible style, the book takes a multidisciplinary approach to this extremely important area of organic chemistry.
Topics covered include an introduction to the structure and properties of heterocycles; the key role of heterocycles in important life processes such as the transfer of hereditary information, how enzymes function, the storage and transport of bioenergy, and photosynthesis; applications of heterocycles in medicine, agriculture and industry; heterocycles in supramolecular chemistry; the origin of heterocycles on primordial Earth; and how heterocycles can help us solve 21st century challenges. 
For this second edition, Heterocycles in Life and Society has been completely revised and expanded, drawing on a decade of innovation in heterocyclic chemistry. The new edition includes discussions of the role of heterocycles in nanochemistry, green chemistry, combinatorial chemistry, molecular devices and sensors, and supramolecular chemistry. Impressive achievements include the creation of various molecular devices, the recording and storage of information, the preparation of new organic conductors, and new effective drugs and pesticides with heterocyclic structures. Much new light has been thrown on various life processes, while the chemistry of heterocycles has expanded to include new types of heterocyclic structures and reactions, and the use of heterocyclic molecules as ionic liquids and proton sponges.
Heterocycles in Life and Society is an essential guide to this important field for students and researchers in chemistry, biochemistry, and drug discovery, and scientists at all levels wishing to expand their scientific horizon.
Table of contents
PREFACE TO SECOND ENGLISH EDITIONPREFACE TO FIRST ENGLISH EDITION
1 MOLECULAR RINGS STUDDED WITH JEWELS1.1 From Homocycle to Heterocycle
1.2 Building Heterocycles from Benzene
1.3 Some More Kinds of Heterocycles
1.4 Problems
1.5 Suggested Reading
2 WHY NATURE PREFERS HETEROCYCLES
2.1 Reactions for All Tastes
2.2 Heterocycles as Acids and Bases
2.3 Heterocycles and Metals
2.4 'There are Subtle Ties of Power...'
2.5 Tautomerism: Heterocycles and Their 'Masks'
2.6 Problems
2.7 Suggested Reading
3 HETEROCYCLES AND HEREDITARY INFORMATION
3.1 Nucleic Acids
3.2 The Double Helix
3.3 How One DNA Doubles Itself
3.4 Protein Synthesis. Genetic Code and Genome
3.5 What are Mutations?
3.6 Mysterious Telomers
3.7 Gene Expression
3.8 Problems
3.9 Suggested Reading
4 ENZYMES, COENZYMES AND VITAMINS
4.1 Molecular Robots
4.2 Coenzymes and Enzymes as 'Joint Molecular Ventures'
4.3 Vitamins, the 'Molecules of Health'
4.4 Ribozymes: Vestiges of an Ancient World
4.5 Problems
4.6 Suggested Reading
5 HETEROCYCLES AND BIOENERGETICS
5.1 ATP as the Universal Currency of Energy
5.2 Breathing
5.3 Problems
5.4 Suggested Reading
6 HETEROCYCLES AND PHOTOSYNTHESIS
6.1 Chlorophyll: Sunlight-receiving Antenna and Energy Carrier
6.2 What Daylight can Achieve
6.3 Photosynthesis without Light
6.4 Problems
6.5 Suggested Reading
7 HETEROCYCLES AND HEALTH
7.1 Medicines from a Natural Storehouse
7.2 Heterocycles versus Infectious Microbes
7.3 Heterocycles and Viral Infections
7.4 Heterocycles and the Diseases of Our Century
7.5 Heterocyclic Molecules in Combat with Ulcer and Sexual Disfunctions
7.6 Problems
7.7 Suggested Reading
8 HETEROCYCLES IN AGRICULTURE
8.1 A Century of Chemical Warfare against Weeds
8.2 Regulators of Plant Growth
8.3 The Struggle against Voracious Insects
8.4 Resisting the Kingdoms of Mustiness and Rot
8.5 Heterocycles in Animal Husbandry
8.6 Combinatorial Chemistry and Functional Genomics in the Synthesis of Biologically Active
Heterocyclic Compounds
8.7 Problems
8.8 Suggested Reading
9 HETEROCYCLES IN INDUSTRY AND TECHNOLOGY
9.1 Heterocycles and Natural Colors
9.2 Dyes
9.3 Fluorescent Agents
9.4 Color Change Compounds
9.5 Fire Retardancy
9.6 Photographic Materials and Recorders of Information
9.7 Heterocycles as Food Additives
9.8 Heterocycles as Cosmetics and Perfumery Ingredients
9.9 Other Applications
9.10 Problems
9.11 Suggested Reading
10 HETEROCYCLES AND SUPRAMOLECULAR CHEMISTRY
10.1 Molecular Recognition and Host-Guest Interactions
10.2 Self-assembling Molecular Systems
10.3 Problems
10.4 Suggested Reading
11 HETEROCYCLES AND 21st CENTURY CHALLENGES
11.1 Energy Problems
11.2 Ecology and Green Chemistry
11.3 Biotechnology and Related Problems
11.4 From Molecular Devices to Molecular Computer
11.5 Problems
11.6 Suggested Reading
12 THE ORIGIN OF HETEROCYCLES
12.1 Origin of the Universe and Appearance of Chemical Elements
12.2 Iterstellar Molecules
12.3 Organic Compounds in Comets and Meteorites
12.4 Do Heterocycles exist on the Moon and Mars?
12.5 The Atmosphere of Earth and Other Planets
12.6 Heterocycles and the Origin of the Biosphere
12.7 Problems
12.8 Suggested Reading
CONCLUSION
ANSWERS AND REFERENCES TO SELECTED PROBLEMS
INDEX
Reviews
Named CHOICE Outstanding Title for 2012

"Summing Up: Highly recommended. All students, researchers/faculty, and professionals." (Choice, 1 January 2012)
Features
·         Completely revised and expanded for this second edition, drawing on a decade of innovation in heterocyclic chemistry
·         New chapters on heterocycles in supramolecular chemistry, and the origin of heterocycles on the early Earth
·         Written in a readable and accessible style, assuming no prior knowledge of heterocyclic chemistry
·         Each chapter includes questions and problems (with answers) on both fundamental and applied heterocyclic chemistry drawn from a wide variety of scientific literature and suggestions for further reading
·         Written by three highly acclaimed researchers in heterocyclic chemistry who have many years' experience of teaching between them
·         Focuses on the importance of heterocycles in everyday life, and the roles they play
·         Stresses the interdisciplinary nature of heterocycles: its influence pervades biochemistry, medicine, agricultural chemistry and technology.
·         Includes many applications drawn from chemistry, biology, medicine and agriculture