Heterocyclic Chemistry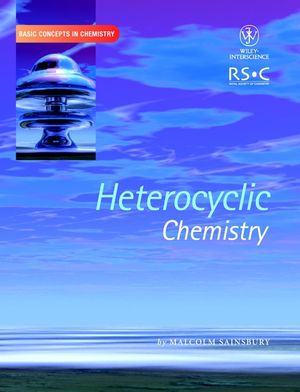 Heterocyclic Chemistry
ISBN: 978-0-471-28164-1
Aug 2002
142 pages
Description
Heterocyclic Chemistry deals with the fundamental chemistry of fully saturated and unsaturated 4-, 5- and 6-membered heterocycles. The principle focus is those compounds containing a single nitrogen, oxygen or sulfur atom and by restricting discussion to these, a balanced treatment is possible. The book introduces a selection of important heterocyclic compounds and the vital role that they play in life, medicine and industry. Conformational aspects of heterocyclic chemistry, aromatic stabilization, nomenclature, reaction mechanisms and methods of synthesis are also discussed.
Introduction to Heterocyclic Chemistry.
Pyridine.
Benzopyridines.
Pyrylium Salts, Pyrans and Pyrones.
Benzopyrylium Salts, Coumarins, Chromones, Flavonoids and Related Compounds.
Five-membered Heterocycles containing One Heteroatom: Pyrrole, Furan and Thiophene.
Benzo[b]pyrrole, Benzo[b]furan and Benzo[b]thiophene.
Four-membered Heterocycles containing a Single Nitrogen, Oxygen or Sulfur Atom.
Answers to Problems.
Subject Index.
"Although primarily an undergraduate text, the main principles that govern heterocyclic chemistry as a whole are addressed in this book, providing a sure foundation for those wishing to widen their interest in heterocyclic chemistry in later years." (
The Chemist
, Summer 2003)
"...this is a useful and straightforward little text that could be recommended to students who seriously want to get to grips with the basics of heterocyclic chemistry." (Biochemistry and Molecular Education, Jan/Feb 2002)