Hidden Power Tools for Photoshop Elements 3 (Windows version)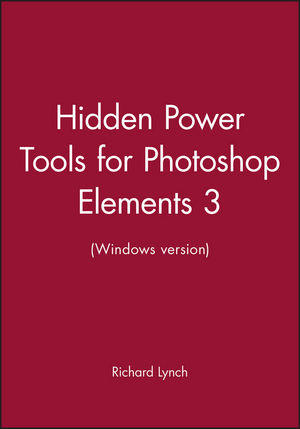 Hidden Power Tools for Photoshop Elements 3 (Windows version)
ISBN: 978-0-782-15028-5 September 2005
Description
Sybex is pleased to offer a software upgrade for users who purchased
The Hidden Power of Photoshop Elements 2.
With Richard Lynch's Hidden Power Tools for Photoshop Elements 3, you'll get all the tools available with the Elements 3 edition of the book in an easy-to-download format. This special download delivers more than 60 tools that allow you to unlock dozens of features hidden in Elements, such as:
Curves, channels, and separations

Custom masking

Color balance

Custom vectors

Enhanced sharpening

And much more!
For users new to Richard Lynch's tools, we offer The Hidden Power of Photoshop Elements 3[link], a complete book/CD package that includes both these powerful tools and the know-how you need to put them to work.
This product works with Photoshop Elements 3 for Windows. If you need the Macintosh version of these tools, click here.[link]