Hidden Roads: Nonnative English-Speaking International Professors in the Classroom: New Directions for Teaching and Learning, Number 138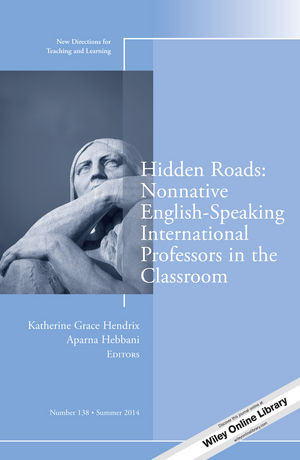 Hidden Roads: Nonnative English-Speaking International Professors in the Classroom: New Directions for Teaching and Learning, Number 138
ISBN: 978-1-118-92319-1 June 2014 Jossey-Bass 104 Pages
Description
This issue uses the powerful narrative of autoethnography to make visible the existence of international professors and teaching assistants who speak English as a Second Language. These important, but often invisible, individuals contribute daily to the education of students within the US postsecondary educational system.
This volume covers a variety of experiences, such as:
Faculty of color teaching intercultural communication
International teaching assistants' attitudes toward their US students
The challenges to existing cultural assumptions in the US classroom.
These experiences—in the form of challenges and contributions—are foregrounded and highlighted in their own right.
This is the 138th volume of the quarterly Jossey-Bass higher education series
New Directions for Teaching and Learning
. It offers a comprehensive range of ideas and techniques for improving college teaching based on the experience of seasoned instructors and the latest findings of educational and psychological researchers.
Table of contents
Editors' Notes 1
Katherine Grace Hendrix, Aparna Hebbani
1. "Are You an Immigrant?": Identity-Based Critical Reflections of Teaching Intercultural Communication 5
Yea-Wen Chen
This chapter examines the identity negotiations of a female international faculty of color teaching an intercultural communication course.
2. College Is Not a Restaurant: Challenging Cultural Hegemony in the US Classroom 17
Juraj Kittler
The author offers an experience of a professor who sees his nonnative status as an opportunity to challenge existing cultural assumptions in the US classroom.
3. Rapport and Knowledge: Enhancing Foreign Instructor Credibility in the Classroom 29
Mei Zhang
This chapter emphasizes rapport and knowledge to build instructor credibility in the oral communication class.
4. Open and Positive Attitudes toward Teaching 41
Chia-Fang (Sandy) Hsu
A teacher's willingness to work out problems with individual students, coupled with openness to students' ideas and criticism, should help improve students' negative attitudes toward the teacher. Better learning outcomes and teaching evaluations can also follow.
5. Opposite Worlds, Singular Mission: Teaching as an ITA 51
Consolata Nthemba Mutua
Teaching in a new pedagogical context and cultural milieu offers unique challenges and insight that can enhance our understanding of the American classroom experience.
6. Capturing the Experiences of International Teaching Assistants in the US American Classroom 61
Aparna Hebbani, Katherine Grace Hendrix
The perceptions of PhD- and MA-level international teaching assistants toward their US American undergraduates are investigated. The findings of these ITAs teaching communication courses are discussed and one coauthor provides her reflexive voice as a nonnative English speaker teaching American students.
7. International Instructor Preparing Teachers for Multicultural Classrooms in the United States: Teaching Intercultural Communication Competence Online 73
Claudia L. McCalman
Recent demographic changes in the United States contribute to our increasing number of multicultural classrooms. Some teachers feel they need to be further prepared to effectively teach and understand challenges of multicultural classrooms. This chapter addresses perceptions and reflections of such teachers while receiving intercultural training, part of their ESL (English as a Second Language) certification. The instructor's reflections close the chapter.
8. Talking Back: Shifting the Discourse of Deficit to a Pedagogy of Cultural Wealth of International Instructors in US Classrooms 83
Gust A. Yep
In addition to highlighting the importance of the voices of international instructors in US classrooms, this chapter proposes a shift from the current discourse of deficit to one of cultural wealth and explores some directions for future research with this population.
Index 93