Hidden Universe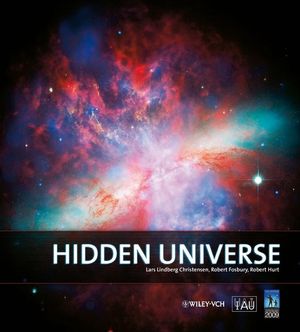 Hidden Universe
ISBN: 978-3-527-40866-5
Dec 2008
146 pages
Description
Our eyes are the result of an evolutionary adaptation to the sun's light. Since the sun is a G dwarf and emits most of its light in only a small part of the electromagnetic spectrum, our eyes are very limited in their capability to show us the universe. This book shows the fundamental change in our perception by covering the full spectrum of light.
The authors' unique skill in both science and science communication allows for a popular writing style, with an emphasis on what cannot be seen with our eyes. They make many comparisons with high-color images to reveal what is actually taking place behind the veil. They also make good use of their access to the most striking images in the field, creating full-color illustrations as needed. In addition, boxes and diagrams provide overviews of the instruments used.
Buy Both and Save 25%!
Original Price:$78.95
Purchased together:$59.21
save $19.74
Cannot be combined with any other offers.
Foreword by Riccardo Giacconi
Preface
1. Light and Vision
2. The View from the Ground
3. Space Observatories
4. The Visible Universe
5. The Infrared Universe
6. The Ultraviolet Universe
7. The Radio & Microwave Universe
8. The X-ray & High Energy Universe
9. The Multi-Wavelength Universe
Glossary
""This book is an exhilarating and remarkable voyage into a universe that the naked eye cannot see....
Hidden Universe
will, without a doubt, open your eyes and your mind to the dramatic and dazzling light-show that is out hidden universe."" (
Spaceflight
, May 2009)
""[This] story of how different telescopes have peeled away layers of the "cosmic onion" offers a useful counterpoint to the history of the telescopes."" (Physics World, March 2009)
""Hidden Universe provides a technical description of efforts to study beyond the visual but has been written in a way which would appeal to amateur astronomers who seek to understand the work of professionals especially in PRO-AM projects. Recommended."" (The Astronomer, February 2009)