Hierarchically Structured Porous Materials: From Nanoscience to Catalysis, Separation, Optics, Energy, and Life Science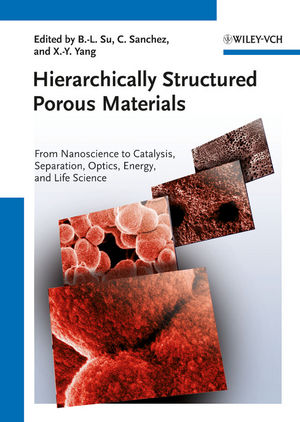 Hierarchically Structured Porous Materials: From Nanoscience to Catalysis, Separation, Optics, Energy, and Life Science
ISBN: 978-3-527-63959-5
Apr 2012
678 pages
Description
This first book devoted to this hot field of science covers materials with bimodal, trimodal and multimodal pore size, with an emphasis on the successful design, synthesis and characterization of all kinds of hierarchically porous materials using different synthesis strategies. It details formation mechanisms related to different synthesis strategies while also introducing natural phenomena of hierarchy and perspectives of hierarchical science in polymers, physics, engineering, biology and life science.
Examples are given to illustrate how to design an optimal hierarchically porous material for specific applications ranging from catalysis and separation to biomedicine, photonics, and energy conversion and storage.
With individual chapters written by leading experts, this is the authoritative treatment, serving as an essential reference for researchers and beginners alike.

Preface
XVII
List of Contributors XXI
Part I Introduction 1
1 Insights into Hierarchically Structured Porous Materials: From Nanoscience to Catalysis, Separation, Optics, Energy, and Life Science 3
Bao-Lian Su, Cl´ement Sanchez, and Xiao-Yu Yang
1.1 Introduction 3
1.2 Synthesis Strategies to Hierarchically Structured Porous Materials 8
1.3 Emerging Applications of Hierarchically Structural Porous Materials 16
1.4 Conclusions 20
Acknowledgments 20
References 21
2 Hierarchy in Natural Materials 29
Peter Fratzl and Marie Madeleine Giraud Guille
2.1 Natural Materials as a Source of Inspiration in Materials Science 29
2.2 Hierarchies Based on Fiber Architectures 31
2.3 Liquid Crystalline Assemblies, Clues to Mimic Hierarchical Structures 33
2.4 Mineralized Biological Tissues, Models for Hybrid Materials 34
2.5 Concluding Remarks 37
References 37
Part II Synthesis Strategies to Hierarchically Structured Porous Materials 41
3 Hierarchically Structured Porous Materials by Dually Micellar Templating Approach 43
¨Ozlem Sel and Bernd M. Smarsly
3.1 Introduction 43
3.2 Nanocasting – True Liquid Crystalline Templating 43
3.3 Basics of Micellization 46
3.4 Mixed Surfactant Solutions 49
3.5 Hierarchical Self-Assembly of Concentrated Aqueous Surfactant Mixtures – Hierarchical Mesoporous Structures 50
3.6 Conclusions 52
References 52
4 Colloidal Crystal Templating Approaches to Materials with Hierarchical Porosity 55
Nicholas D. Petkovich and Andreas Stein
4.1 Introduction and Historical Overview 55
4.2 The Preparation of 3DOM Materials 61
4.3 3DOM Materials with Intrinsic Secondary Porosity 69
4.4 Hierarchical Materials from Multimodal Colloidal Crystal Templates 77
4.5 Hierarchical Materials from Combinations of Soft and Colloidal Crystal Templating 84
4.6 Hierarchical Opals and Related Structures 103
4.7 Conclusions and Outlook 112
Acknowledgments 113
References 114
5 Templating of Macroporous or Swollen Macrostructured Polymers 131
Maryline Chee Kimling and Rachel A. Caruso
5.1 Introduction 131
5.2 Macroporous Polymer Gels Formed in Amphiphile Solutions 133
5.3 Macroporous Starch or Agarose Gels 136
5.4 Polymer Foams 140
5.5 Polymeric Films and Fibrous Mats 151
5.6 Polymer Spheres 159
5.7 Closing Remarks 166
References 168
6 Bioinspired Approach to Synthesizing Hierarchical Porous Materials 173
Tian-Yi Ma and Zhong-Yong Yuan
6.1 Introduction 173
6.2 Hierarchical Porous Materials from Biotemplates 176
6.3 Hierarchical Porous Materials from the Biomimetic Process 194
6.4 Conclusions and Perspectives 201
References 202
7 Porous Materials by Templating of Small Liquid Drops 209
Haifei Zhang
7.1 Introduction 209
7.2 Emulsion Templating 210
7.3 Breath Figures Templating 223
7.4 Conclusions 236
Acknowledgment 237
References 237
Further Reading 239
8 Hierarchically Porous Materials by Phase Separation: Monoliths 241
Kazuki Nakanishi
8.1 Introduction 241
8.2 Background and Concepts 242
8.3 Examples of Materials with Controlled Macro/Mesopores 248
8.4 Summary 262
Acknowledgments 263
References 263
9 Feature Synthesis of Hierarchically Porous Materials Based on Green Easy-Leaching Concept 269
Ge Tian, Li-Hua Chen, Xiao-Yu Yang, and Bao-Lian Su
9.1 Introduction 269
9.2 Hierarchically Structured Porous Materials Synthesized by Easy-Leaching Air Templates 270
9.3 Hierarchically Structured Porous Materials Synthesized by Easy-Leaching Ice Template 272
9.4 Hierarchically Structured Porous Materials Synthesized by Easy Selective-Leaching Method 283
9.5 Other Easy-Leaching Concepts in the Synthesis of Hierarchically Structured Porous Materials 290
9.6 Summary 296
Acknowledgments 296
References 296
10 Integrative Chemistry Routes toward Advanced Functional Hierarchical Foams 301
Herv´e Deleuze and R´enal Backov
10.1 Introduction 301
10.2 Organic–Inorganic PolyHIPEs Prepared from Water-in-Oil Emulsions 304
10.3 Organic–Inorganic PolyHIPEs Prepared from Direct Emulsions 316
10.4 Particles-Stabilized PolyHIPE 328
10.5 Conclusion and Perspectives 330
References 331
11 Hierarchically Structured Porous Coatings and Membranes 335
Cedric Boissiere, Eric Prouzet, David Grosso, and Cl´ement Sanchez
11.1 Introduction 335
11.2 The Multiple Templating Strategy 336
11.3 Dynamic Templating 340
11.4 Building Block Assemblies for Photonic Band Gap Materials 343
11.5 Ink-Jet Printing and Cooperative Self-Assembly 345
11.6 Foaming Processes 345
11.7 Filtration Membranes 347
11.8 Conclusion 357
References 358
12 Self-Formation Phenomenon to Hierarchically Structured Porous Materials 363
Xiao-Yu Yang, Ge Tian, Li-Hua Chen, and Bao-Lian Su
12.1 Introduction 363
12.2 History of Self-Formation Phenomenon 364
12.3 Features of Self-Formation Phenomenon 367
12.4 Structural Features of Hierarchical Porous Materials Based on the Self-Formation Phenomenon 368
12.5 The Mechanism of Self-Formation Procedure 373
12.6 Controlled Synthesis Based on the Self-Formation Phenomena 384
12.7 Development of Synthesis Methodology 396
12.8 Applications and Hierarchical Catalysis 399
12.9 Summary 402
Acknowledgments 403
References 403
13 Auto-Generated Hierarchical Meso–Macroporous Aluminosilicate Materials with High Tetrahedral Al Content from the Single-Molecular Alkoxy-Precursor (SMAP) Strategy 407
Arnaud Lemaire and Bao-Lian Su
13.1 Introduction 407
13.2 Hierarchically Structured Meso–Macroporous Aluminosilicates 409
13.3 Conclusion 426
Acknowledgment 426
References 427
Further Reading 433
14 Zeolites with Hierarchically Porous Structure: Mesoporous Zeolites 435
Feng-Shou Xiao and Xiangju Meng
14.1 Introduction 435
14.2 Mesoporous Zeolites Formed by Posttreatments 437
14.3 Mesoporous Zeolites Created by Solid Templates 438
14.4 Mesoporous Zeolites Created by Soft Templates 442
14.5 Functionalization of Mesoporous Zeolites 449
14.6 Perspectives in the Synthesis of Ordered Mesoporous Zeolites 452
References 453
15 Micro-Macroporous Structured Zeolite 457
Ya-Hong Zhang, Li-Hua Chen, Yi Tang, Xiao-Yu Yang, and Bao-Lian Su
15.1 Introduction 457
15.2 Hollow Micro-Macroporous Structure 457
15.3 Micro-Macroporous Monoliths 465
15.4 Conclusion and Remarks 471
References 475
Part III Emerging Applications of Hierarchically Structured Porous Materials 481
16 Hierarchically Porous Materials in Catalysis 483
Toshiyuki Yokoi and Takashi Tatsumi
16.1 Introduction 483
16.2 Acid Catalyst 484
16.3 Titanosilicates 500
16.4 Conclusions and Outlook 511
References 511
17 Hierarchically Structured Porous Materials: Application to Separation Sciences 517
Kazuki Nakanishi
17.1 Introduction 517
17.2 Separation Medium for HPLC 517
17.3 Variations in Column Format and Pore Structures 523
17.4 Products 526
17.5 Summary 527
Acknowledgments 528
References 528
18 Colloidal Photonic Crystals: Fabrication and Applications 531
Qingfeng Yan, Jie Yu, Zhongyu Cai, and X. S. Zhao
18.1 Photonic Crystals 531
18.2 Colloidal Self-Assembly Approach to Photonic Crystals 532
18.3 Optical Doping in Colloidal Photonic Crystals 542
18.4 Band-Gap Engineering in Colloidal Photonic Crystals 557
18.5 Photonic Devices Based on Colloidal Photonic Crystals 562
18.6 Outlook 569
Acknowledgments 571
References 571
19 Hierarchically Structured Porous Materials for Energy Conversion and Storage 577
Bao-Lian Su
19.1 Introduction 577
19.2 Hierarchically Structured Porous Materials for Energy Conversion 579
19.3 Hierarchically Structured Porous Materials for Energy Storage 591
19.4 Conclusion and Outlook 597
References 597
20 Hierarchically Structured Porous Materials–Applications in Biochemistry: Bioceramics, Life Science, and Drug Delivery 601
Mar´ıa Vallet-Reg´ı and Miguel Manzano
20.1 Introduction 601
20.2 Bioceramics 601
20.3 Life Science 603
20.4 Drug Delivery 610
20.5 Three-Dimensional Scaffolds 616
References 616
21 On the Optimal Mechanical Properties of Hierarchical Biomaterials 621
H. X. Zhu, T. X. Fan, and D. Zhang
21.1 Introduction 621
21.2 Mechanics of Materials of First-Level Hierarchy 622
21.3 Mechanics of Materials of the Higher Level Hierarchy 628
21.4 Results and Discussion 629
References 630
Part IV Conclusion 633
22 Concluding Remarks 635
Bao-Lian Su, Cl´ement Sanchez, and Xiao-Yu Yang
22.1 Looking Back 635
22.2 Looking Forward 636
Index 639