High-Impact Consulting: How Clients and Consultants Can Work Together to Achieve Extraordinary Results , Completely Revised and Updated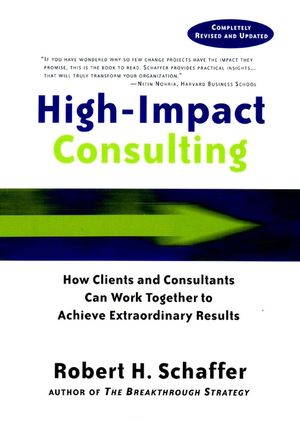 High-Impact Consulting: How Clients and Consultants Can Work Together to Achieve Extraordinary Results , Completely Revised and Updated
ISBN: 978-0-787-96049-0 March 2002 Jossey-Bass 288 Pages
Description
In this new and revised edition of the landmark book High-Impact Consulting, Robert H. Schaffer reveals how senior managers unwittingly collude with their consultants to perpetuate the great waste inherent in "the five fatal flaws of conventional consulting." Drawing on his own work with companies-- Motorola, Rio Tinto, IBM, General Reinsurance Corporation, The World Bank, and other successful organizations-- Schaffer offers a field-tested approach to working with consultants that has proven to get results. He identifies the key elements of an effective project design?particularly that project objectives are defined in terms of client results rather than just consultant deliverables. The process enables clients to be certain that the work is carried out in ways that ensure success.
Table of contents
Part One: From High-Stakes Gambling to Certain Success.

1. Low-Yield, Conventional Consulting versus High-Yield, High-Impact Consulting.

2. The Five Fatal Flaws of Conventional Consulting.

3. The Bottom-Line Results of High-Impact Consulting.

Part Two: The Results-Driven Architecture of High-Impact Consulting.

4. Define Goals in Terms of Client Results Instead of Consultant Products.

5. Match Project Scope to What the Client Is Ready to Do.

6. Aim for Rapid-Cycle Successes to Generate Momentum.

7. Build a Partnership to Achieve and to Learn.

8. Leverage Resources: More Results with Fewer ConsultantsPart Three: Creating High-Impact Partnerships.

9. Create a Contract for Collaboration Instead of a Proposal for a Job.

10. Senior Managers Must Insist That Their People Produce the Results.

11. Build Communication Bridges and Overcome Anxiety.

12. Test the Shift to High-Impact Consulting: It s All Upside and Risk-Free.