High-Performance Nutrition: The Total Eating Plan to Maximum Your Workout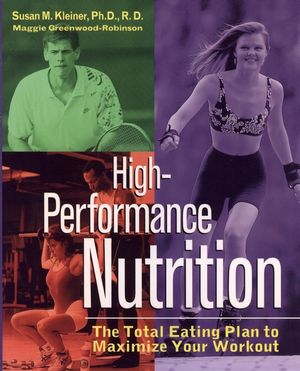 High-Performance Nutrition: The Total Eating Plan to Maximum Your Workout
ISBN: 978-0-471-11520-5
Apr 1996
304 pages
Product not available for purchase
Description
If you exercise, you need cutting-edge information on diet and nutrition to get the best results. Whether you want to achieve peak performance, improve your energy, increase endurance, lose fat, tone muscle, increase your body's natural ability to fight disease, or slow the aging process, High-Performance Nutrition offers the key to success. Nationally known expert Susan Kleiner shows you how to eat to get more value from any type of exercise----aerobics, strength training, endurance training, cross training, or recreational sports. Her unique nutrition program features:
* A proven nutritional formula for a fast increase in muscle tone and strength
* An easy-to-follow 30-Day Menu Plan, including shopping tips and meal preparation strategies
* Delicious recipes for ""One-Minute Breakfasts"" and ""Dynamite Dinners""
* The latest information on supplements, food additives, sugar and fat replacements, sports drinks, and vegetarian diets
Partial table of contents:

WHAT HIGH-PERFORMANCE LIVING MEANS.

Eating for Performance and Health.

FOODS FOR PHYSICALLY ACTIVE PEOPLE.

Carbohydrates.

Fat.

Phytochemicals.

Minerals.

SUPPLEMENTATION FOR ATHLETES AND EXERCISERS.

Antioxidant Supplementation.

My Firming Formula.

CONTROVERSIAL SUPPLEMENTS.

The Truth About Some Supplements.

Caffeine.

FLUID NEEDS OF EXERCISERS.

Water.

Sports Drinks.

THROUGH THICK AND THIN: WEIGHT CONTROL MADE EASY.

Successful Weight Control.

If you Want to Maintain or Gain Weight.

NUTRITION FOR SPECIAL NEEDS.

Nutrition During Pregnancy.

Go for It.

Appendices.

References.

Index.