High-Temperature Superconductor Materials, Devices, and Applications: Proceedings of the 106th Annual Meeting of The American Ceramic Society, Indianapolis, Indiana, USA 2004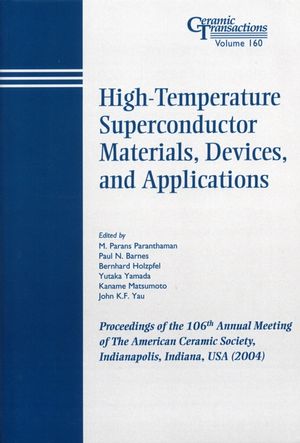 High-Temperature Superconductor Materials, Devices, and Applications: Proceedings of the 106th Annual Meeting of The American Ceramic Society, Indianapolis, Indiana, USA 2004
ISBN: 978-1-118-40717-2 April 2012 98 Pages
Description
This proceedings investigates the relationship between features at the atomic level including oxygen vacancies, stacking faults and site order/disorder, grain boundaries, film-substrate interactions, buffer-superconductor interactions, thermodynamic, transport, and other macroscopic properties. This proceedings will also cover fundamental material properties studies, new growth methods, device and materials integration research, and developments in designing and growing new materials, all involving epitaxial superconducting thin films.
Long Length Processing of YBCO Coated Conductors.

Biaxially Textured Templates (RABiTS, IBAD, ISD).

New Developments in Buffer Layer Technology.

In-situ Diagnostics and Reel-to-Reel Characterizations.

Crystal Chemistry and Non-YBCO Materials.

Bulk Processing and Flux Pinning.

Applications of Bulk and Tape Conductors.