Higher, Further, Faster: Is Technology Improving Sport?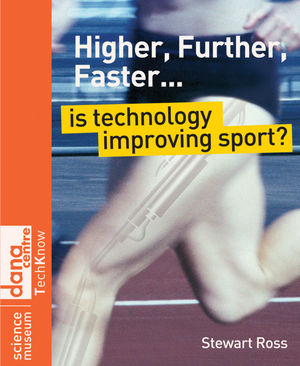 Higher, Further, Faster: Is Technology Improving Sport?
ISBN: 978-0-470-71235-1 August 2008 384 Pages
Description
Sport is undergoing a global technological revolution. Year on year, records are smashed, equipment gets more sophisticated, facilities improve almost beyond recognition. These changes are impacting on all areas of sport, from shoes to cycles and stadia. Is this making sport more exciting for participants and spectators? Or are talent and determination becoming secondary to money and technology, devaluing honest competition?
In Higher, Further, Faster…, Stewart Ross looks at these questions and much more. Starting with a description of technology's impact on elements common to various sports, such as bats, balls, pitches and special clothing, he then examines the controversies that arise almost daily, from golf club technology to the use of Hawk-eye in tennis. He also looks ahead to the techno-future of major sports such as football, tennis, golf, cricket, cycling and motor sport, and asks where they are going:
Are referees and umpires becoming redundant?

If drugs will always win, do we really have a choice about using them?

Will we ever see a Super-Human Olympics?

Is modern professional sport more about technology than talent?

Can athletes from the developing world ever hope to compete in modern sport?
This book is a must-read for all participants and fans who want to understand the technological upheaval that is shaking modern sport to its very foundations. One thing's for sure: whether you find it stimulating or just plain scary, the future will be very, very different…
About the author
Stewart Ross is a full-time writer with some 200 published titles to his credit. He is also an occasional journalist and broadcaster, a frequent lecturer, notably on the QE2 and at ICES (La Roche sur Yon, France, where he lectures to science students), and a much sought-after presenter of workshops to schools and adult groups.
Table of contents
Foreword.
Preface and Glossary.
Acknowledgements.
Introduction.
SECTION I: THE SPORT-TECH REVOLUTION.
1. Bat and Ball - Bats, Clubs, Rackets, Sticks and the Balls They Strike.
2. Tracksuits and Trainers - Sport Clothing, Footwear and Protection.
3. Hey Ref! - Officials and Judgement.
4. Born of Technology - Cycles, Snow and Machines.
5. Afloat and Aloft - Water and Airborne Sports.
6. Theatres of Dreams - Pitches, Courts, Tracks and Stadiums.
7. Gear, Gadgets and Gismos â?? Implements and Training.
8. Diet Plus - Enhancement Through Diet, Drugs and Other Practices.
SECTION II: INTO THE UNKNOWN.
9. The Games We Will Play - Where Some Major Sports Will Be in 2080.
10 Is Technology Improving Sport?
- Prosecution, Defence, Verdict
-Â A Suggested Way Forward.
Index.