Higher Education Abstracts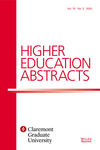 Higher Education Abstracts
Vol 52(4 Issues in 2017 ) Print ISSN: 0748-4364 Online ISSN: 2150-1092
Description
Higher Education Abstracts, published by The Claremont Graduate University, is a quarterly compilation of abstracts of journal articles pertaining to college students, faculty, administrators, and related topics in higher education. Higher Education Abstracts features more than 1,100 fully informative summaries, topically arranged, in the four issues of each volume. Each abstract includes the full citation to the original document, the author's affiliation, and the number of bibliographic references in the original document.
Higher Education Abstracts covers more than 200 journals in the fields of education, computer sciences, management, psychology, sociology, and law; papers read at meetings of major education and social sciences conferences; books published by all major higher education publishers; and research reports issued by professional organizations, government agencies, and foundations. Coverage includes materials from the United States and Canada and from foreign publications printed in English.
No other abstracting publication in the United States focuses solely on the field of higher education, covers all types of literature, and includes the essential content of the original material in its abstracts. Higher Education Abstracts is widely considered to be the leading research tool in higher education today.