Hijacking Enigma: The Insider's Tale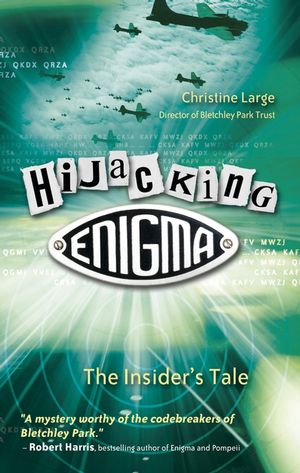 Hijacking Enigma: The Insider's Tale
ISBN: 978-0-470-86346-6
Oct 2003
302 pages
Product not available for purchase
Description
The theft from Bletchley Park in 2000 of the legendary Enigma machine, the device used by the Allies to decode German messages during World War II, was an altogether novel and frightening twist on recent history. Closely followed by the British media, the theft of the Enigma machine was later revealed to be part of a well-orchestrated hate campaign against Bletchley Park's new director, Christine Large. Hijacking Enigma is her story, a harrowing insider's look at what's it's like to be at the centre of a complex cat-and-mouse game and media frenzy.
About the Author.
Dedication.
Acknowledgements.
1. Alice Digs In.
2. The Vanishing.
3. Rules and Regulations.
4. A Mock Turtle.
5. The Alphabet Cipher.
6. Nonsense From Letters.
7. Serpent!
8. The Hunting.
9. A Little Bill.
10. Rules of Battle.
11. Dream of Money-Bags.
12. Cold, Cold Sea
13. Cat And Mouse.
14. Misunderstanding.
15. Knots.
16. Man At The Helm.
17. The Landing.
18. A Cunning Conspiracy.
19. The Professor's Song.
20. White Knight.
21. Lobster Quadrille.
22. Birthday Presents.
23. Petty Cash.
24. Hush! Hush!
25. Knave In Chains.
26. Stuff And Nonsense.
27. Alice's Evidence.
28. Magic Watch.
29. A Tangled Tale.
30. White Kid Gloves.
31. Golden Afternoon.
32. Dead Reckoning.
Epilogue.
Bibliography.
Index.
"...this book is an excellent read, and well paced throughout. It is also surprisingly, full of humour." (Sunday Mercury, 28 March 2004)
"...with spies and detectives, history and extortion , this is more astounding than a Bond film." (Good Book Guide, April 2004)
"...detective story that describes the cat-and-mouse plot played out between the police and the thief of ...[the] Enigma machine..." (Museums Journal, April 2004)
"...a fascinating story with many photographs and flashbacks..." (Cryptolgia, July 2005)