Hire With Your Head: Using POWER Hiring to Build Great Companies, 2nd Edition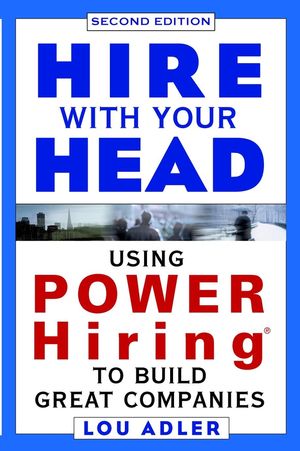 Hire With Your Head: Using POWER Hiring to Build Great Companies, 2nd Edition
ISBN: 978-0-471-27309-7 October 2002 352 Pages
Description
Find the right candidate for the job every time
Adler's insightful new POWER hiring methods enable managers to attract, assess, and recruit the best candidates through the integration of online tools and offline behavior modifications. New information on hiring and the Internet, diversity, and legal compliance issues is included.
Table of contents
Chapter 1: The POWER Hiring Approach to Hiring Top Talent.

Chapter 2: Performance Profiles-Define Success, Not Skills.

Chapter 3: Emotional Control.

Chapter 4: The Basic Four-Question Interview.

Chapter 5: Work-Type Profiling: Matching Skills and Interests with Job Needs.

Chapter 6: After the First Interview-How to Make Sure You Have a Great Candidate.

Chapter 7: The Ten-Factor Candidate Assessment.

Chapter 8: Recruiting, Negotiating, and Closing.

Chapter 9: Sourcing-How to Find the Best.

Chapter 10: Implementing POWER Hiring.

Afterword.

Appendix A: The Legality of the POWER Hiring Protocol (Robert J. Bekken).

Appendix B: A Discussion of the Validity of the Structured Interviews Used in the POWER Hiring Process (Charles A. Handler, PhD).

Appendix C: Templates.

1. The Performance Profile.

2. The Four-Question Interview.

3. The Basic Eight-Question Interview.

4. The Ten-Factor Candidate Assessment.

Notes.

Index.