Hire the American Dream: How to Build Your Minimum Wage Workforce Into A High-Performance, Customer-Focused Team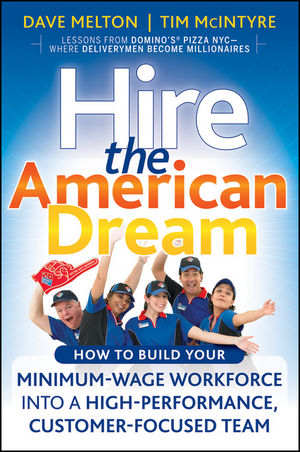 Hire the American Dream: How to Build Your Minimum Wage Workforce Into A High-Performance, Customer-Focused Team
ISBN: 978-0-470-46638-4
Apr 2009
304 pages
Description
Praise for Hire the American Dream
""I learned early on that Dave Melton had cracked the code(about hiring and retaining great people) in his Manhattan franchise.His employees, who are all immigrants to the United States, areextremely loyal and are committed to customer service.""
—From the Foreword by David A. Brandon, Chairman and CEO, Domino's Pizza, Inc.
""This is a must-read book for anyone managing or interested in starting a business, especially in the role of a franchisee. It's loaded with keen insights and best practices for interviewing, hiring, and motivating employees in a very challenging business environment. Dave Melton's story is truly inspirational.""
—Jack Whipple, President, National Council of Chain Restaurants
""Hire the American Dream provides valuable lessons from the trenches. The school of hard knocks has taught Dave Melton a lot. You'll benefit fromhis experiences—you'll learn about creating incentives, enhancing customerservice, connecting on a personal level, giving feedback, and building world-class teams. Take his ideas and run with them. You'll build more successful teams.""
—Robert D. Reid, Dean, College of Business, James Madison University
""Dave Melton shares his time-tested approach to creatingrestaurants that are brimming with energy. And it all begins withDave's amazing passion for developing the future owners ofDomino's Pizza stores. If you care this much about developing leaders,you and your business will be richly rewarded for years to come.""
—Cheryl Bachelder, CEO, AFC Enterprises, Inc.
""Hire the American Dream really gets to the heart of selecting,training, motivating, and ultimately retaining a world-class team whowill care as much about your business as you do and deliver exceptionalcustomer service that can help any business grow.""
—Stuart Mathis, President, Mail Boxes Etc., Inc.
""This book is filled with great commonsense approaches to customer service and leadership training with an easily understood message thatevery organization needs to hear. In these days when management thoughtis presented in complicated models, there is something refreshing about leadership principles taught by a guy who simply loves to make pizza. This book is for everyone who wants to be a better leader.""
—Marshall Cook, Executive Producer, Multi Image Group
Chapter 1: Domino's Pizza, New York City– Coaching Frontline Workers to Succeed in the World's Toughest Pizza Market.
Chapter 2: Find Entry Level Employees with Entrepreneurial Spirit.
Hire warm people, not warm bodies.
Share your vision and make it contagious.
Fix your (hiring) mistakes – fast.
Don't hire other people's rejects. Check references.
Happy employees are the best recruiters – let them tell their friends.
Chapter 3: Recent Immigrants Have Much to Offer.
Passion is more important than skill.
Lower wages do not mean lower quality.
Never lower your standards.
Let entrepreneurs follow their dreams.
Let employees think – and behave – like owners.
Chapter 4: Teach Philosophy & Opportunity First (The Melton Speech).
Provide opportunities.
Have more fun!
Give your people a reputation to live up to.
Be a resource for your people.
Make sure everybody wins. (Customer, Employee, Owner)
Reinforce key messages until they repeat them back to you.
Use management tools to manage.
Set goals with reality in mind (SMAC) – and make them known.
Provide motivation, inspiration, education and compensation.
Store visits by first graders.
Donate pizzas whenever we can: great community outreach & sampling opportunities.
Chapter 5: Teach Customer Service.
The customer is always right. No, really.
Customers want you to solve their problems, not create them.
Complaints are opportunities.
Managers are important.
You can never "win" an argument with a customer.
Stores have personalities…
Customer's pizza is more important than food costs…
We call stores during manager meetings…
Use every experience to learn (airline counter example).
Melton quote on all boxtops.
Difference between "satisfied" and "delighted".
Customers don't care how busy we are…
Does pizza "wow" before you close the box? If not, it won't change on the way…
Chapter 6: Create a Common Language of Incentives & Rewards.
Celebrate wins.
Share your success.
Let them know what they can do to be successful.
Keep your promises.
Let them know what success is.
Incentives, incentives, incentives!
Don't just deliver pizza – sell it!
Give your people exposure to other high profile people in the industry.
Use the schedule as a motivational tool.
Rather give bonus for clean store vs. giving it to NYCDOH as a fine…
Chapter 7: Teach Honesty, Hard Work, Loyalty & Teamwork.
Lean and mean doesn't work; lean and nice does.
The team is bigger than the individual.
Let people make mistakes, then learn from them.
Standards make it easy.
We love hearing customers comment on how much fun we're having and how fast we are.
Treat your TMs as #1 and they'll do the same for customers…
Chapter 8: Accommodate the Special Needs of Your Employees.
Provide flexibility.
Opportunities to support your team happen every day.
If TM's not getting it right, find out if it's because they don't know how or don't want to.
Respect where your employees have come from.
Help them learn.
Listen.
Practice "family-style communications."
Focus on training.
Chapter 9: Make the Rules for Promotion Public.
May the best person win.
Big responsibilities make good leaders.
Reward great performers.
Chapter 10: How to Give Feedback…
Chapter 11: Tools…