Hispanic / Latino Identity: A Philosophical Perspective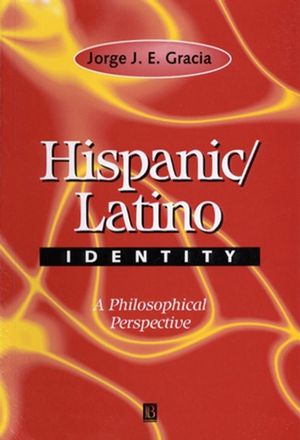 Hispanic / Latino Identity: A Philosophical Perspective
ISBN: 978-0-631-21764-0
Nov 1999, Wiley-Blackwell
256 pages
Description
This volume provides a superb introduction to the philosophical, social, and political elements of Hispanic/Latino identity. It is an indispensable tool for anyone interested in issues that concern Hispanics/Latinos, social policy, and the history of thought and culture.
Preface.
1. What Should We Call Ourselves?.
2. What's in a Name? The Relation of Names to Identity and Ethnicity.
3. What Makes Us Who We Are? The Key to Our Unity and Diversity.
4. An Illustration: Hispanic Philosophy.
5. Where Do We Come From? Encounters, Inventions, and Mestizaje.
6. The Search for Identity: Latin-America and Its Philosophy.
7. Foreigners in Our Own Land: Hispanics in American Philosophy.
Conclusion.
Notes.
Bibliography.
Index of Names.
Index of Subjects.
"Gracia has written a clear and understandable book that will appeal to general readers and lower-division undergraduates."
Choice, March 2000, P. Vila, University of Texas at San Antonio
<!--end-->
"It would be impossible to overestimate the contribution that Jorge Gracia's book makes to the philosophical fields of ethnic and Hispanic/Latino studies.The book has already succeeded in promoting a lively discussion among leading figures in these fields." The Journal of Speculative Philosophy, Vol. 17, 2003

"In this book Jorge Gracia makes a formidable case for a non-essentialist Hispanic identity. Lurking behind his arguments is a case for rethinking two other kinds of identities - what it means to be an American, and what it means to be a philosopher. Hispanic/Latino Identity: A Philosophical Perspective moves smoothly between these often muddled layers of identity and by the end offers insights that can only be enriching to an American philosophical community typically perceived by non-whites as indifferent, even hostile." Samuel O. Imbo, Essays in Philosophy, Vol. 5, No. 1, January 2004, Book Review


First book that presents a comprehensive discussion of Hispanic/Latino identity from a philosophical point of view.


Interdisciplinary approach including: philosophy, anthropology, sociology, history and cultural studies.


Introduction to Latino/Hispanic philosophy and thought.