Histological Analysis of Endocrine Disruptive Effects in Small Laboratory Fish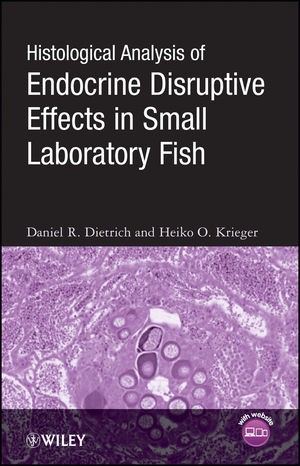 Histological Analysis of Endocrine Disruptive Effects in Small Laboratory Fish
ISBN: 978-0-470-43179-5
Jul 2008
272 pages
Description
Timely title assembling the combined knowledge of some of the leading authorities in the field of small fish reproduction - an important topic for risk assessment and registration of chemical, agricultural, and pharmaceutical compounds
Provides guidance on the microscopic structure of living tissue and evaluation of the reproductive glands of small laboratory fish
Includes state-of-the-art science along with sufficient anatomical and physiological background for understanding and interpreting test results
Helps standardize the interpretation of results from aquatic bioassays and field observations, which will also clarify inconsistencies in the current scientific literature
Note: CD-ROM/DVD and other supplementary materials are not included as part of eBook file.
Preface.
Acknowledgments.
Contributing Authors.
1 Introduction.
References.
2 Fish Species of Interest.
2.1 Fathead Minnow (Pimephales promelas).
2.2 Medaka (Oryzias latipes).
2.3 Zebrafish (Danio rerio).
2.4 Other Fish Species.
References.
3 Sexual Determination, Differentiation, and Gonadal Development.
3.1 Primordial Germ Cells in the Primordial (Primary) Gonad.
3.2 Reproductive Strategies.
3.3 Differentiation of the Primordial Gonad into Ovary or Testis.
3.4 Gonadal Duct Formation.
3.5 Endocrinology: Influence on Gonadogenesis.
3.6 Critical Period of Sexual Differentiation in Developing Fish.
3.7 Bi-Potentiality of Germ Cells in Adult Fish.
References.
4 Female Gonad Anatomy and Morphology.
4.1 Gonadogenesis: Ovary.
4.2 Hypothalamic–Pituitary–Ovarian Axis.
4.3 Cellular Structure of the Ovary.
References.
5 Male Gonad Anatomy and Morphology.
5.1 Gonadogenesis: Testes.
References.
6 Endocrine-Disrupting Compounds.
6.1 Individual Effects.
6.2 Effects Associated with Exposure to Specific Compounds or Compound Classes.
6.3 Population Effects.
References.
7 Determination of Effects of Exogenous Hormones and Endocrine-like Active Compounds.
7.1 Histological Processing: Microdissection versus Whole-Fish Sectioning.
7.2 Optimal Tissue Preparation and Histological Techniques.
7.3 Plane of Gonad Sectioning for Optimal Organ Representation.
References.
8 Evaluation of Effects in Fish Gonads.
8.1 Qualitative (Semiquantitative) versus Quantitative Evaluation.
8.2 Gonadal Staging in the Testis.
8.3 Gonadal Staging in the Ovary .
8.4 Qualitative Assessment of Histopathological Changes.
References.
9 Experimental Design and Statistics.
9.1 Basic Considerations in Experimental Design.
9.2 Variables to be Determined and Their Inherent Biological and Mathematical Characteristics.
9.3 Prerequisite Statistical Concepts.
9.4 Statistical Tests and Testing Situations Encountered Routinely.
References.
10 Conclusions.
References.
Appendix: Fish Preparation and Microdissection of Organs.
A.1 Fish Preparation.
A.2 Microdissection of Organs.
A.3 Tissue Fixation.
A.4 Embedding.
A.5 Tissue Sectioning.
A.6 Sample Mounting.
A.7 Tissue Slide Staining.
A.8 Final Processing.
A.9 Examples.
A.10 Summary.
References.
Index.