Historic Building Façades: The Manual for Maintenance and Rehabilitation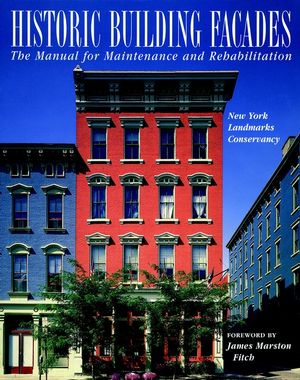 Historic Building Façades: The Manual for Maintenance and Rehabilitation
ISBN: 978-0-471-14415-1 April 1997 220 Pages
Description
Comprehensive, in-depth coverage from leading experts in thefield

A historic building is a fragile resource that requires the finestcare. Maintenance and rehabilitation of walls and facades call fora thorough understanding of the forces that cause deterioration,knowledge of the properties of building materials, up-to-dateinspection tools and methods, and a solid command of renovation andrepair techniques. In this complete reference manual, recognizedexperts provide state-of-the-art information and methodologies forthe inspection, maintenance, and restoration of historic buildingsof virtually every period, style, and material.

Each chapter opens with a general discussion of the facade materialand the ways in which structural and decorative elements arevulnerable to an array of environmental forces. After a detailedinvestigation of tools and techniques for inspection, the textexplores planning issues for the restoration or replacement offacade components. Special features include:
* Separate chapters on each major type of building material--stonemasonry, brick masonry, terra-cotta masonry, cast stone, mortar,concrete, cast iron, sheet metal, and wood
* An entire chapter on caulks and sealants
* 35 original line drawings and 43 black and white photos that helpvisualize technical information
* Selected success stories from preservation projects across theUnited States

For architects, building contractors, and owners of historicbuildings, Historic Building Facades clarifies procedures, helpsidentify sources of deterioration, and offers solutions to even themost difficult maintenance and rehabilitation problems. It is alsoan excellent reference for building preservationists, architecturalhistorians, and students of building design and preservation.
Cannot be combined with any other offers.
Original Price:$235.00
Purchased together:$176.25
save $58.75
Table of contents
Inspection.

Plan for Restoration or Replacement of Facade Components.

Stone Masonry.

Brick Masonry.

Terra-Cotta Masonry.

Cast Stone.

Mortar.

Concrete.

Cast Iron.

Sheet Metal.

Wood.

Caulks and Sealants.

Selected Bibliography.

Index.