History Alive 7 for the Australian Curriculum eBookPLUS (Online Purchase)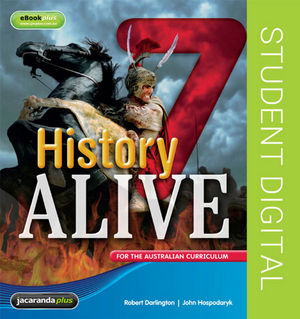 History Alive 7 for the Australian Curriculum eBookPLUS (Online Purchase)
ISBN: 978-0-730-33753-9
Nov 2012, Jacaranda
192 pages
Product not available for purchase
Description

Based on the highly successful Humanities Alive series, History Alive 7 for the Australian Curriculum eBookPLUS provides the most engaging and fascinating coverage of the new Australian Curriculum for History for year 7 students across Australia. 
 
KEY FEATURES

• Visually appealing double-page spreads
• A wealth of source material
• High-impact photos and artwork
• A clear inquiry-based approach
• Lively and complete coverage of the essential content
• A dedicated ICT activities spread for each chapter which highlights all the ICT resources in eBookPLUS

History Alive 7 for the Australian Curriculum eBookPLUS is an electronic version of the textbook and a complementary set of targeted digital resources. These flexible and engaging ICT activities are available online at the JacarandaPLUS website (www.jacplus.com.au).




>eBookPLUS resources include:
• Access from any digital device PC/MAC/iPad/Android Tablet.
• Worksheets - Word documents designed for easy customisation and editing.
• Interactivities and games to reinforce and enhance student learning.
• eLessons - engaging video clips and supporting material.
• Weblinks to relevant support material on the internet.
• ProjectsPLUS - unique ICT-based projects that provide opportunities for students to demonstrate creativity, thinking skills and teamwork.
Depth Study 1: Investigating the Ancient Past
CHAPTER 1 - Historians, archaeologists and the ancient past
CHAPTER 2 - Investigating a society of the ancient past: the Olmec
Overview 1: The Ancient World
CHAPTER 3 - The ancient past before farming
Overview 2 - The Ancient World
CHAPTER 4 - The Ancient World The ancient past since farming
Depth Study 2: The Mediterranean World
CHAPTER 5 - Ancient Egypt
CHAPTER 6 - Ancient Greece
CHAPTER 7 - Ancient Rome
Depth Study 3: The Asian World
CHAPTER 8 - The Asian World Ancient China
CHAPTER 9 - Ancient India