History Alive 9 for the Australian Curriculum eGuidePLUS (Online Purchase)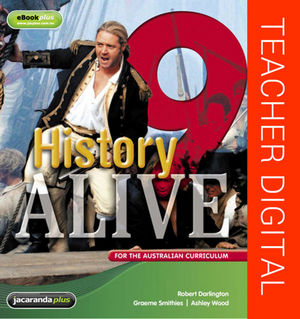 History Alive 9 for the Australian Curriculum eGuidePLUS (Online Purchase)
ISBN: 978-0-730-33767-6
Feb 2013, Jacaranda
192 pages
Product not available for purchase
Description
History Alive 9 for the Australian Curriculum eGuidePLUS for teachers contains a HTML and PDF version of the entire student text as well as a complimentary set of targeted electronic resources. These flexible and engaging ICT activities are available online at the JacarandaPLUS website (www.jacplus.com.au).  

The eGuidePLUS includes:
• comprehensive teaching and assessment notes
• answers to all activities in the student text and workbook
• Australian Curriculum grids for each chapter
• Weblinks to useful support material on the internet
• access to the student eBookPLUS


What is onlinepurchase?
onlinepurchase is a Jacaranda digital only product.
Following payment you will receive a registration code via email.
Go to www.jacplus.com.au to register your code and access your digital resource.

 
Overview 1: The Making of the Modern World
CHAPTER 1 - The Modern World and Australia (c. 1750 - 1918)
Depth Study 1: Making a Better World?
CHAPTER 2 - Technology and Progress - The Industrial Revolution (1750 - 1914)
CHAPTER 3 - People and the Industrial Revolution (1750 - 1914)
CHAPTER 4 - Movement of People (1750 - 1901)
Depth Study 2: Australia and Asia
CHAPTER 5 - Making a nation: colonisation and conflict in Australia
CHAPTER 6 - Making a nation: Australia - from colonies to nationhood
CHAPTER 7 - Asia and the world: China
Depth Study 3: World War I
CHAPTER 8 - The Great War (1914-1918)