History of Pedlars in Europe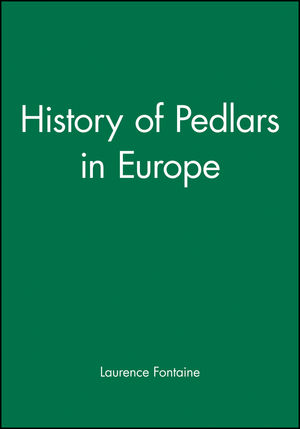 History of Pedlars in Europe
ISBN: 978-0-745-60785-6 April 1996 Polity 288 Pages
Description
In this, the first sustained account of pedlars and peddling, Laurence Fontaine argues that pedlars and the networks they built up played a crucial role in the birth of the modern European economy.
Table of contents
Introduction.
1. Peddling and Major Trade Between the Fifteenth and Seventeenth Centuries.
2. The Eighteenth Century: a Return to the Regional Areas.
3. The Eighteenth Century: the Networks of Booksellers and Book Pedlars in Southern Europe.
4. A Flexible Typology.
5. In the Village: Reasons for Itinerancy and the Structures Supporting It.
6. Credit and Social Relationships.
7. The Demise of the Profession.
8. The Culture of Itinerancy.
9. A Civilised Business?.
Conclusion.
Appendix.
Notes.
Index.
Reviews
"Laurence Fontaine's meticulous study breathes new life into social history ... Her book will be a landmark."
Le Monde
"An important study ... the chronological scope of the History of Pedlars is admirably broad ... The book, admirably achieves the author's stated objective of rescuing the trade of peddling from marginalization." Economic History Review
"A pioneering work ... Fontaine's interpretation of peddling is bold and imaginative. The book is ... valuable and interesting." Danish National Business Archives
"This is a pioneering work about peddling in Europe, 1400-1900. Fontaine's interpretation of peddling is bold and imaginative ... valuable and interesting." Business History
"Laurence Fontaine's History of Pedlars in Europe is a remarkable achievement. Her study sweeps impressively from the fifteenth century to the nineteenth century, and the decline of peddling to the twentieth century, when the profession had largely died away. In this new study, Fontaine ranges across frontiers with the ease of her pedlars themselves. She adopts a European-wide scale. But while the contours of Fontaine's story are large, her analysis is built upon wonderfully detailed material culled from a daunting variety of archives, family papers, account books and mutations après deces, as well as from secondary literature marshalled from far and wide. In this subtle tour de force, the history of Europe's pedlars and their astonishing mobility and networks of credit jump to life. Fontaine's prose, admirably rendered into English by Vicki Whittaker, is engaging and elegant." French History
"The value of this book lies in its holistic analysis of the organization and culture of European pedlars." English Historical Review
Features
This is the first systematic account of the history of pedlars and peddling in Europe
The coverage is broad, covering five centuries.