History of Syphilis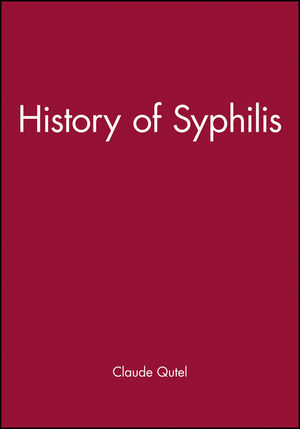 History of Syphilis
ISBN: 978-0-745-61030-6 April 1992 Polity 352 Pages
Description
The book presents the first comprehensive history of the origin of syphilis, from its appearance in Europe at the end of the fifteenth century to the present day. Quetel examines the origins and treatments of syphilis over the centuries, focusing on the controls over sexual behaviour which were justified by the need to curb the spread of the disease.

The author also investigates the cultural dimensions of the problem: for instance, the images of syphilis presented in wartime propaganda and the literary connotations associated with the idea of the syphilitic genius. Quetel discusses historical accounts of the spread of syphilis and draws parallels with the current medical and social campaigns against AIDS.
Acknowledgements.
Introduction: Syphilis as a Cultural Phenomenon.
1. A Terrifying Affliction (1495-1519).
2. A Much-disputed Origin.
3. The Great Pox (Sixteenth-Century).
4. From Pestilence to Disease (The Seventeenth and Eighteenth Centuries).
5. The Nineteenth-century Impasse.
6. The Great Turning Point (around 1900).
7. Madmen and Heredos.
8. Syphilis Everywhere (Between the Wars).
9. The Pox and the Prostitute.
10. The End of the Terror (1945 to the Present Day).
Conclusion: From Syphilis to AIDS.
Notes.
Bibliographical Notes.
Chronology.
Index.
'Outstanding ...'
The Independent on Sunday
'A rich, extensive and flexible review ... reading of basic importance ... well-documented cultural guide through history.' Times Literary Supplement
'A jolly good read, and an extremely useful summary of knowledge on the subject.' European History Quarterly
'A well-researched and robust survey... Quetel spans the centuries, and offers important cross-cultural insights. His book can be heartily recommended.' History
'This lively, often entertaining and well-informed book, by a historian who is unusually conversant with the medical aspects of his subject, is not only an accomplished piece of social history; it also stands as a warning that deserves to be heeded.' French History
'The volume can be highly recommended as a stimulating introduction to the subject.' Medical History
'Lively and illuminating book that examines the disease from a host of different angles.' Wilson Library Bulletin
'A thorough, well researched book and above all, a good read!' Canadian Journal of History
New in paperback
This is the first comprehensive history of syphilis from the fifteenth century to the present day
The hardback was extremely well reviewed and sold very well indeed.