Holiday Decorating For Dummies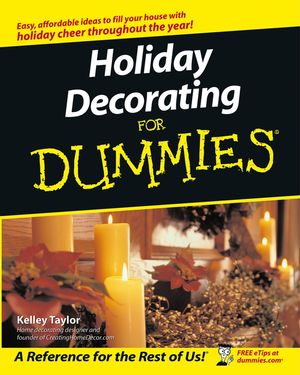 Holiday Decorating For Dummies
ISBN: 978-1-118-06883-0 May 2011 360 Pages
Description
Even if your home's decor hasn't changed since 1976, you can refresh, revamp, and revitalize it at the holidays with just a few simple strokes. Unlike regular decorating – where you agonize over paint colors, upholstery choices, and furniture styles – holiday decorating is easy. Holidays provide a set theme; a color palette; and merchandise and motifs that are usually mass-manufactured, so you can purchase and decorate when you're ready.

You may be feeling intimidated about decorating for the holidays, or you may be ready to dive right in. No matter what level of decorator you may be, Holiday Decorating For Dummies shows you tricks that you may not already know. This guide is for you if:
You need easy, affordable ideas to fill your house with holiday cheer
You have no idea where to start and just need some ideas to get you going.
You already have a huge collection of your own holiday stash and need to get organized before acquiring more
You love to celebrate very special occasions: an anniversary, a special birthday, a warm welcome home
A flair for decorating isn't necessarily inherited. Armed with clear explanations of how you can achieve beautiful yet practical holiday decorating, planning tips and tricks, crafting basics, care and cleaning tips, storage solutions, and more, you can decorate like a pro. Holiday Decorating For Dummies helps you gain that skill with topics such as:
Discovering tabletop decorating basics
Budgeting time, money, and space
Getting organized
Caring for your decorations
Knowing where to go for ideas and inspiration
Celebrating Valentine's Day, Halloween, Thanksgiving
Decorating for Christmas, Kwanzaa, and Jewish holidays
Embellishing the exterior of your home
Getting crafty with paper, florals, fabric, beads, and embossing
Creating luminaries and etched-glass projects
Part decorating guide, part stylist guide, and part craft instruction book, Holiday Decorating For Dummies helps you access the knowledge you need to create beautiful homes and great gatherings that will provide a warm welcome for family and friends.
Introduction.
Part I: Becoming a Holiday Decorator Extraordinaire.
Chapter 1: Setting the Stage for Holiday Decorating.
Chapter 2: Decorating Basics.
Chapter 3: Discovering Tabletop Decorating Basics.
Chapter 4: Finding Ideas and Inspiration.
Part II: The Practical Stuff: Money, Space, and More.
Chapter 5: Budgeting Your Time, Money, and Space.
Chapter 6: Getting Organized.
Chapter 7: Keeping and Caring for Your Holiday Stash.
Part III: Getting to the Heart of the Holidays.
Chapter 8: Designing a Romantic Valentine's Day.
Chapter 9: Celebrating Everything Irish: St. Patrick's Day.
Chapter 10: Rejoicing Easter.
Chapter 11: Being True to Red, White, and Blue: Independence Day.
Chapter 12: Creating a Graveyard Smash: Halloween.
Chapter 13: Displaying Gratefulness at Thanksgiving.
Chapter 14: Decking the Halls at Christmas.
Chapter 15: Decorating for Kwanzaa.
Chapter 16: Celebrating Jewish Holidays.
Chapter 17: Taking the Holidays Outdoors.
Part IV: Crafting for the Holidays.
Chapter 18: Getting Started Crafting.
Chapter 19: Crafting with Fabric (Sewing Optional!).
Chapter 20: Providing a Finishing Touch with Paper Crafts.
Chapter 21: Taking Advantage of Flower (and Botanical) Power.
Chapter 22: Embracing Embossing.
Chapter 23: Painting Decoratively.
Chapter 24: Working With Transfers.
Chapter 25: Creating Luminarias.
Chapter 26: Beading Beautifully.
Chapter 27: Etching Glass.
Part V: The Part of Tens.
Chapter 28: Ten Quick and Easy Ways to Decorate for the Holidays.
Chapter 29: Ten Tips to Make Your Holiday Decorating Less Hectic.
Appendix: Holiday Resources.
Index.