Hollywood, Interrupted: Insanity Chic in Babylon -- The Case Against Celebrity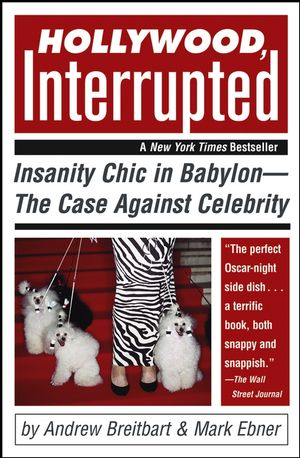 Hollywood, Interrupted: Insanity Chic in Babylon -- The Case Against Celebrity
ISBN: 978-0-471-66189-4 March 2004 416 Pages
Description
Hollywood, Interrupted is a sometimes frightening, occasionally sad, and frequently hysterical odyssey into the darkest realms of showbiz pathology, the endless stream of meltdowns and flameouts, and the inexplicable behavior on the part of show business personalities.

Charting celebrities from rehab to retox, to jails, cults, institutions, near-death experiences and the Democratic Party, Hollywood, Interrupted takes readers on a surreal field trip into the amoral belly of the entertainment industry. Each chapter — covering topics including warped Hollywood child-rearing, bad medicine, hypocritical political maneuvering and the complicit media — delivers a meticulously researched, interview-infused, attitude heavy dispatch which analyzes and deconstructs the myths created by the celebrities themselves.

Celebrities somehow believe that it's their god-given right to inflict their pathology on the rest of us. Hollywood, Interrupted illustrates how these dysfunctional dilettantes are mad as hell... And we're not going to take it any more.
Acknowledgments.
Introduction.
PART I: IT'S A FAMILY AFFAIR.
1. Hollywood Family Values: A New Weird Order.
Hollywood families exposed for not only not upholding family values but pissing all over middle-class mores. Rethinking the life and death of River Phoenix. Familial implosions exposed. It's gotten so bad we argue for sterilization of the celebrity class.
2. In Loco Parentis: Hollywood Nannies.
Hollywood nannies speak out and tell all—"There is no laughter in this house." Nannies so stressed they've formed a Beverly Hills support group. A nanny gets blacklisted.
3. Hollyweird High.
Inside Crossroads School for the Arts & Sciences, where Hollywood elite send their children, and we find, like any other school in the Western world, sex, drugs, and rock-n-roll. Unlike other high schools, we also discover Crossdressing Day, Ménage à Prom, death, and a mandatory pseudo-therapeutic program called "Mysteries."
PART II: FEAR AND LOATHING IN LOS ANGELES.
4. Screwball Tragedy.
Hollywood's strange history with insanity, drugs, and therapy.
5. Doctor Feelgoods.
Not feeling so hot? Call the doctor. Top Gun producer overdoses. Winona's Dr. Feelgood loses his license. Oliver Stone signs a medic. Lily-livered Hollywood "heppers," including Stripperella, try anything.
6. From Rehab to Retox.
Rehab centers to the stars get visits from Matthew Perry, Robert Downey Jr., Ben Affleck, among others. Celeb rehab spas offer a panoply of treatment programs from equine therapy to brain wave analysis. Not on the menu—sex in the bathroom.
PART III: THE BELIEVERS.
7. Karma Chameleons.
Madonna and friends converge on Kabbalah. Hollywood cults run amok. Established religion is evil.
8. Shilling for Scientology: I Want Your Body—Thetans.
Scientology rocks!
PART IV: CALIFORNICATION.
9. Sex in This City.
The pornification of America. There's a whorehouse in Beverly Hills. Swing Kids club hop. Hugh Hefner is a porn baron. The Heidi Tapes.
10. "Sexual Perversity" in Los Angeles.
Eddie Murphy plays good Samaritan to a Samoan transvestite hooker. Hollywood attorneys employ shady PIs to bend laws. Peter Pan picks a porn producer.
INTERMISSION.
Heroine.
Love Means Never Having to Say You're Courtney.
PART V: THE LEFT WING.
11. Reds.
Celebs embrace hate speech. Everyone's "Friend" Jennifer Aniston calls Bush names and taunts daughter Jenna. Robert Altman and Alex Baldwin threaten to leave the country. We love dictators! Hollywood warmly embraces Castro.
12. Blue Country Haze.
Hollywood ground zero for the culture war. Rosie, the lesbian, swoons over the heterosexual Tom Cruise. Oprah dictates politics. The war of the ribbons (can you support PETA and be for AIDS research?). Flacks make celebs pick a cause.
13. The Death of Comedy.
Hollywood kills Andrew "Dice" Clay and Sam Kinison. Can't get no comic relief. "South Park" rails against Rob Reiner.
PART VI: LIES, MORE LIES, AND VIDEOTAPE.
14. Hollywood Pan Men.
Hollywood A-Team of B-list celebs goes on the road to sell pans of lies for fast cash and cheap thrills.
15. The Lying Game.
Fictionalized documentaries. Scripts are stolen. Friends cover up. We expose Hollywood's own Jayson Blair.
PART VII: AMERIKA ONLINE.
16. Hollywood Online.
Where the stars go and what they do when they virtually get there.
17. www.americahateshollywood.com.
Media Berlin Wall falls. Newfound freedoms expressed in cyberspace. The gigabyte is up. America talks back.
Epilogue.
Notes.
Index.