Hollywood Speaks Out: Pictures that Dared to Protest Real World Issues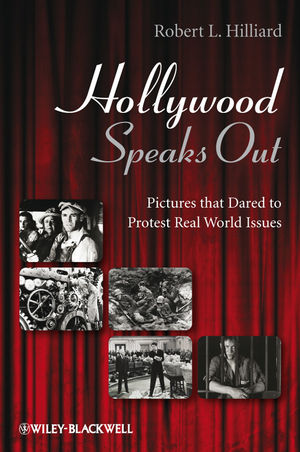 Hollywood Speaks Out: Pictures that Dared to Protest Real World Issues
ISBN: 978-1-444-30851-8 April 2009 Wiley-Blackwell 280 Pages
Description
Hollywood Speaks Out explores that rare Hollywood feature that dared to tackle red-hot, social issues whilst American society was gripped by the convulsion and controversy they generated.
Explores why Hollywood has always been risk-adverse, and how most feature flms deal with controversial issues long after the controversy is past
Organized around such important issues as poverty, racism, sexism, war, anti-Semitism, and homophobia
Discusses the relevance and the impact of feature films from Modern Times to WALL-E 
List of Figures.
Foreword.
Introduction.
1 Overview
But who will come to see it?
2 War
Hell for whom?
3 Anti-Semitism
Some of my best friends . . ..
4 Prison and Justice Systems
Not separate but unequal.
5 Labor–Management
Whose side are you on?
6 Poverty
Anyone can play.
7 Racism
Recipe for superiority.
8 Politics
The good and the bad.
9 Homophobia
Who's a bigot?
10 Technology
Can we beat the machine?
11 Sexism
Protecting old boys' egos.
12 Hide or Seek
Other genres: Will Hollywood shut up or speak up?
Selected Readings.
Index.
Organized around such important issues as poverty, racism, sexism, war, anti-Semitism, and homophobia
Discusses the relevance and the impact of feature films from Modern Times to WALL-E