Hollywood in the Information Age: Beyond the Silver Screen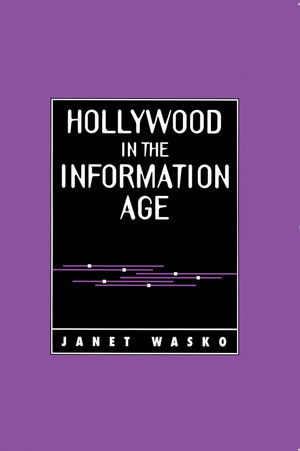 Hollywood in the Information Age: Beyond the Silver Screen
ISBN: 978-0-745-60318-6 September 1994 Polity 320 Pages
Description
This is a major new assessment of the American movie industry in the 1990's, focusing on the development of new communication technologies such as cable and home video and examining their impact on the production and distribution of motion pictures.
Table of contents
1.
Introduction:
Hollywood and the Culture Industry.
2. The Way We Were: An Historical Look at Hollywood and Technology.
3. Film Production: In the Information Age.
4. The Big Boys: The Hollywood Majors.
5. The Wired Nation and the Electronic Super Highway: Cable Television, Pay Cable, Pay-Per-View and Beyond.
6. Talkin' 'Bout a Revolution: Home Video.
7. The Silver Screen: Theatrical Exhibition in the Information Age.
8. Hollywood Meets Madison Ave: The Commercialization of U. S. Films.
9. Around the World in Nanoseconds: International Markets for Filmed Entertainment.
10. Hooray for Hollywood: Moving into the 21st Century.

Index.
Reviews
'This book is a timely contribution to the debate on the Information Super Highway and the globalization of media markets. Full of up-to-date information, it is essential reading for all those studying current developments in the media.'
Nicholas Garnham, University of Westminster
'Looking for a rudder to steer through the shifting currents of moviedom in the information age? Wasko's ... treatise may be just the thing.' Box Office
'Wasko provides a full analysis of the major ways the Hollywood movie business is maintaining its monopoly on film making. This is an important look at the lucrative business of big movie making. Recommended.' The Reader's Review
What's New
* This book is a major new assessment of the American movie industry in the 1990s.
* The author considers Hollywood in its entirety - home videos, cable tv and other communication technologies. She examines the impact of such technologies in areas such as distribution, production, exhibition, marketing and merchandising.
* Full of data and examples, this book will appeal to anyone interested in the current state of the film industry.