Home Buying For Dummies, 4th Edition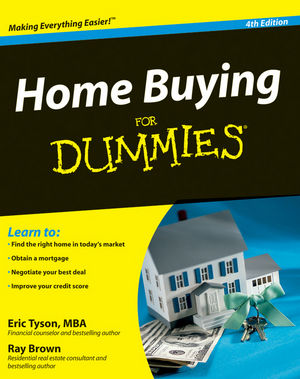 Home Buying For Dummies, 4th Edition
ISBN: 978-0-470-50066-8
Apr 2009
384 pages
Product not available for purchase
Description
Now updated — America's #1 bestselling home-buying book!
Want to buy a house, but concerned about the market? Have no fear — this trusted guide arms you with Eric Tyson and Ray Brown's time-tested advice and updated strategies for buying a home in current market conditions. You'll discover how to find the right property, make smart financial decisions, and understand the latest lending requirements and tax implications.
New to this edition — new and expanded coverage to help homebuyers take advantage of low home prices, understand the subprime mortgage crisis, obtain a mortgage, and improve credit scores

To buy or not to buy? — weigh the advantages of owning versus renting, get your finances in order, and know how much house you can safely afford

Handle financing — understand your credit rating, navigate the different types of mortgages, and complete all paperwork

Play the real estate game — find the right location and property, assemble an all-star real estate team, and make the most of the Internet's real estate resources

Let's make a deal — negotiate with finesse, make successful offers, inspect and protect your new home, and cover all your bases in escrow
"Invaluable information, especially for the first-time home buyer."
—Fort Worth Star-Telegram
"A reference you'll turn to time after time."
—St. Petersburg Times
Open the book and find:
Reasons why home prices rise and fall

Hands-on instruction for buying a home in up or down markets

How to pay the price you want

The best mortgage options

A sample home-buying contract

Pros and cons of comparable market analysis

Tips for overcoming mortgage and appraisal problems

How to cope with buyer's remorse

The best real estate Web sites
Introduction.
Part I: Home Economics.
Chapter 1: Deciding Whether to Buy.
Chapter 2: Getting Your Financial House in Order.
Chapter 3: What Can You Afford to Buy?
Chapter 4: Why Home Prices Rise and Fall.
Part II: Financing 101.
Chapter 5: Understanding and Improving Your Credit Score.
Chapter 6: Selecting a Mortgage.
Chapter 7: Mortgage Quandaries, Conundrums, and Paperwork.
Part III: Property, Players, and Prices.
Chapter 8: Where and What to Buy.
Chapter 9: Assembling an All-Star Real Estate Team.
Chapter 10: What's It Worth?
Chapter 11: Tapping the Internet's Best Resources.
Part IV: Making the Deal.
Chapter 12: Negotiating Your Best Deal.
Chapter 13: Inspecting and Protecting Your Home.
Chapter 14: It Ain't Over till the Weight-Challenged Escrow Offi cer Sings.
Part V: The Part of Tens.
Chapter 15: Ten Financial "To Do's" After You Buy.
Chapter 16: Ten Things to Know When Investing in Real Estate.
Chapter 17: Ten Things to Consider When Selling Your House.
Part VI: Appendixes.
Appendix A: Sample Real Estate Purchase Contract.
Appendix B: Example of a Good Inspection Report.
Appendix C: Glossary.
Index.