Home Networking Do-It-Yourself For Dummies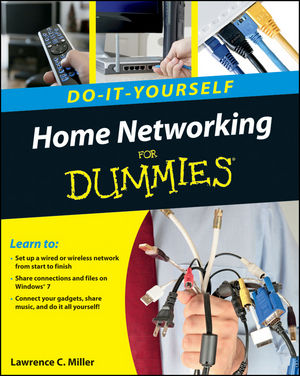 Home Networking Do-It-Yourself For Dummies
ISBN: 978-0-470-56173-7 April 2011 368 Pages
Description
Step by step guide to connecting all your electronic devices into one network
A home network allows you to share Internet connections, photos, video, music, game consoles, printers, and other electronic gadgets. This do-it-yourself guide shows you step by step how to create a wired or wireless network in your home.
In the For Dummies tradition of making technology less intimidating, Home Networking Do-It-Yourself For Dummies breaks down the process into easy steps with clear instructions.
Increasing broadband speeds, cellular technology, the explosive growth of iPhone sales, and the new Home Group feature in Windows 7 all contribute to a booming interest in home networking
This step-by-step guide walks do-it-yourselfers through the process of setting up a wired or wireless network with Windows 7 and Windows Vista
Demonstrates how to connect desktops or laptops, printers, a home server, a router, high-speed Internet access, a video game system, a telephone line, and entertainment peripherals
Shows how to share files, music, and video, and connect to an iPhone
Provides maintenance and troubleshooting tips
Home Networking Do-It-Yourself For Dummies enables you to take advantage of everything a home network can offer without hiring a technology wizard.
Introduction.
Part I: Doing Your Homework.
Chapter 1: Why Do You Need A Home Network?
Chapter 2: Understanding Networking Basics.
Part II: Installing Your Home Network.
Chapter 3: Getting Wired.
Chapter 4: Going Wireless.
Part III: Setting Up Your Windows 7 Network.
Chapter 5: Understanding User Accounts.
Chapter 6: Setting Up a HomeGroup.
Chapter 7: Sharing With Others.
Chapter 8: Connecting to the Internet.
Chapter 9: Connecting Remotely.
Chapter 10: Having Fun with Your Home Network.
Part IV: Keeping Your Network Safe and Healthy.
Chapter 11: Inside the Action Center.
Chapter 12: Windows Firewall and Windows Defender.
Chapter 13: Windows Update.
Chapter 14: Backup and Restore.
Chapter 15: Building a SOHO Network.
Part V: The Part of Tens.
Chapter 16: Ten Great Windows 7 Resources.
Chapter 17: Ten Reasons You Might Not Be Able to Join a HomeGroup.
Chapter 18: Ten Network Troubleshooting Tools.
Index.