Homer, 2nd Edition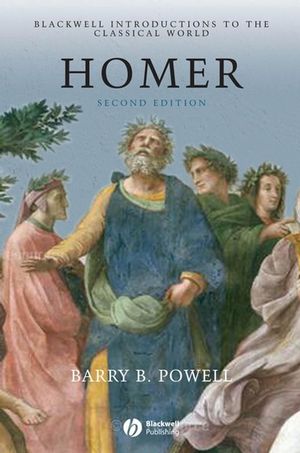 Homer, 2nd Edition
ISBN: 978-1-405-15324-9 April 2007 Wiley-Blackwell 256 Pages
Description
This concise book is a complete and contemporary introduction to Homer and his two master-works, the Iliad and the Odyssey. It explains the "Homeric Question," illuminating its current status, and critiques the literary qualities of the
Iliad
and the
Odyssey
, analyzing and contrasting their plotting, narrative technique, and characterization.


Provides historical background and literary readings of The Iliad and The Odyssey

New to the second edition: a section on Homer's reception in ancient Greece; a chapter on Homer and archaeology; additional maps; an updated bibliography; a glossary of key terms; and information on the oral composition of the poems

Text is updated throughout

Assumes no prior knowledge of Greek
Table of contents
Chronological Chart.
Preface to the Second Edition.
Preface to the First Edition.
Introduction.
Part I: Background:.
1. The Philologist's Homer.
2. The Historian's Homer.
3. The Reader's Homer.
Part II. The Poems:.
4. The Iliad.
5. The Odyssey.
6. Conclusion and Summary: Homer's Complementary Poems.
Part III: Reception:.
7. Homer and The Philosophers.
8. Homer and The Poets.
Notes.
Appendix: For Further Reading.
Index
Reviews
"Remains the substantial and erudite introduction that it was on first printing. Powell writes with confidence, elegance, and a brisk tone, which means that the book, though aimed at an audience of specialists and non-specialists alike, is still a pleasure for the professional Homerist to read. Powell's book does a superb job of covering a wide range of relevant material, while remaining an entertaining and engaging walk through the state of the art of Homeric scholarship at the opening of the twenty-first century."
New England Classical Journal<!--end-->
Praise for the first edition:

"Powell admirably wrestles an almost impossible amount of material into a coherent presentation for his target audience ... It is well written in a clear and accessible style. Honest in his aims, Powell admirably introduces the genius and challenge of the Homeric works."
Bryn Mawr Classical Review

"The book has a refreshingly personal touch ... Powell succeeds very well in making Homer's poetry and Homeric problems appealing to his intended readers."
Classical Bulletin

"Powell offers an impressive introduction to Homer, focusing on the epic texts for which he is known, the Iliad and the Odyssey … Highly recommended."
Library Journal

"…this is a useful book as it introduces a wide range of topics with clarity…will certainly inspire readers to pursue the further study of Homer."
Bryn Mawr Classical Review, February 2008
Features


A student-friendly introduction to Homer and his two great epics, The Iliad and The Odyssey

Provides historical background and literary readings of The Iliad and The Odyssey

New to the second edition: a section on Homer's reception in ancient Greece; a chapter on Homer and archaeology; additional maps; an updated bibliography; a glossary of key terms; and information on the oral composition of the poems

Text is updated throughout

Assumes no prior knowledge of Greek