Homes and Homecomings: Gendered Histories of Domesticity and Return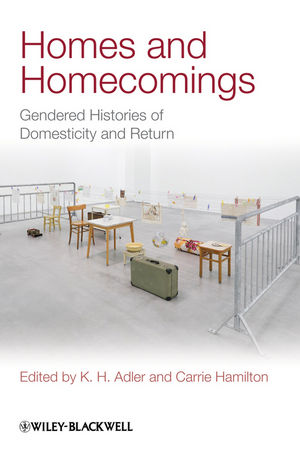 Homes and Homecomings: Gendered Histories of Domesticity and Return
ISBN: 978-1-444-35198-9 July 2011 Wiley-Blackwell 248 Pages
Description
In Homes and Homecomings an international group of scholars provide inspiring new historical perspectives on the politics of homes and homecomings. Using innovative methodological and theoretical approaches, the book examines case studies from Africa, Asia, the Americas and Europe.
Provides inspiring new historical perspectives on the politics of homes and homecomings
Takes an historical approach to a subject area that is surprisingly little historicised
Features original research from a group of international scholars
The book has an international approach that focuses on Africa, Asia, the Americas and East and West Europe
Contains original illustrations of homes in a variety of historical contexts
Introduction: Gendering Histories of Homes and Homecomings
(K. H. Adler).
1. Communist Comfort: Socialist Modernism and the Making of Cosy Homes in the Khrushchev Era (Susan E. Reid).
2. Corporate Domesticity and Idealised Masculinity: Royal Naval Officers and their Shipboard Homes, 1918–39 (Quintin Colville).
3. Men Making Home: Masculinity and Domesticity in Eighteenth-Century Britain (Karen Harvey).
4. 'Who Should Be the Author of a Dwelling?' Architects versus Housewives in 1950s France (Nicole Rudolph).
5. Ideal Homes and the Gender Politics of Consumerism in Postcolonial Ghana, 1960–70 (Bianca Murillo).
6. 'The Dining Room Should Be the Man's Paradise, as the Drawing Room Is the Woman's': Gender and Middle-Class Domestic Space in England, 1850–1910 (Jane Hamlett).
7. 'There Is Graite Odds between A Mans being At Home And A Broad': Deborah Read Franklin and the Eighteenth-Century Home (Vivian Bruce Conger).
8. Sexual Politics and Socialist Housing: Building Homes in Revolutionary Cuba (Carrie Hamilton).
9. 'The White Wife Problem': Sex, Race and the Contested Politics of Repatriation to Interwar British West Africa (Carina E. Ray).
10. From Husbands and Housewives to Suckers and Whores: Marital-Political Anxieties in the 'House of Egypt', 1919–48 (Lisa Pollard).
11. Double Displacement: Western Women's Return Home from Japanese Internment in the Second World War (Christina Twomey).
Notes on Contributors.
Index.
"This book is of value to students and scholars in social sciences and the humanities interested in gendered perspectives on home and domestic life."  (International Journal of Housing Policy, 21 June 2013)