Homeschooling For Dummies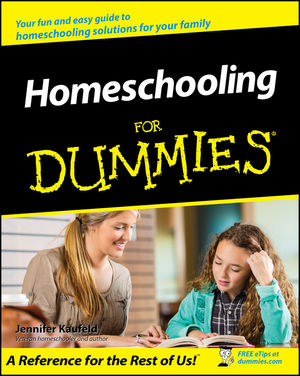 Homeschooling For Dummies
ISBN: 978-1-118-06866-3 April 2011 384 Pages
Download Product Flyer
Download Product Flyer
Download Product Flyer is to download PDF in new tab. This is a dummy description. Download Product Flyer is to download PDF in new tab. This is a dummy description. Download Product Flyer is to download PDF in new tab. This is a dummy description. Download Product Flyer is to download PDF in new tab. This is a dummy description.
Description
If you believe that a good education is the greatest gift you can give your child, you're probably pretty unhappy with what's being taught in most classrooms these days. If you think that education should do more than just train kids to take standardized tests, that it should build their critical thinking skills, enable them to weigh ethical considerations, instill a passion for learning, and reflect your core values and beliefs, then you're probably fed up with the current state of our schools. If, like many parents, you're wondering whether homeschooling can be the solution you're looking for, then you'll be happy to know that the answer is yes–and
Home Schooling For Dummies
shows you how.
This friendly, well-informed guide is a valuable resource for parents considering homeschooling, as well as veteran homeschooler interested in fresh homeschooling ideas. It gets you on track with what you need to know to confidently:
De termine whether homeschooling is right for you and your family
Get started in homeschooling
Obtain teaching materials
Develop a curriculum that reflects your values and beliefs
Comply with all legal requirements
Find healthy social outlets for your kids
Join a homeschooling cooperative
From textbooks to computers to state compliance, expert Jennifer Kaufeld, covers all the bases. She anticipates most of your questions about homeschooling and answers them with clear, easy-to-follow answers enlivened by real-life accounts by parents around the nation who have opted to homeschool their children. Topics covered include:
Deciding at what age to begin
Determining your kid's learning style and teaching to it
Teaching special needs children
Developing a curriculum that's right for your children
Finding social outlets for you homeschoolers
Complying with state and federal regulations
Teaching at the primary, middle school and high school levels
Preparing for the SATs, ACT and other key standardized tests
Networking with other homeschoolers
You shouldn't have to compromise on your children's education. Get Homeschooling For Dummies and find out how to turn your home into a school and raise smart, well-adjusted kids.
Table of contents
Introduction.

PART I: Heading to Homeschooling.

Chapter 1: Answering the Big Questions.

Chapter 2: Taking the Leap.

Chapter 3: Addressing the Buzzword: Socialization.

Chapter 4: Complying with Uncle Sam.

Chapter 5: Getting Everybody Involved.

PART II: Tackling Kids of Any Age.

Chapter 6: Teaching Your Toddler While You Change Your Baby.

Chapter 7: Covering the Elementary Years.

Chapter 8: Handling Junior High.

Chapter 9: Help! I Have a High Schooler.

Chapter 10: Completing Twelfth Grade Doesn't Mean It's Over.

PART III: Choosing Your Cornerstone: Basic Curriculum Options.

Chapter 11: Orbiting as a Satellite School or ISP.

Chapter 12: Does Classical Education Mean Teaching Vivaldi?

Chapter 13: Teaching Them What They Want to Learn.

Chapter 14: Unschooling: A Walk on the Relaxed Side.

Chapter 15: Charting Your Own Academic Course.

Chapter 16: Special Concerns for Special Students.

Chapter 17: Finding the Sources You Need.

PART IV: Nailing Down the Details.

Chapter 18: Defining Your School Space.

Chapter 19: Keeping the Costs Down.

Chapter 20: Turning Chaos into Organization.

Chapter 21: Making the Grade.

Chapter 22: Plugging in Your Schoolroom.

Chapter 23: Connecting with Likeminded Souls.

Chapter 24: Opting for a Cooperative.

PART V: Making Your Year Sing with Extras.

Chapter 25: Adding Spice with Special Classes.

Chapter 26: Making It Adventurous.

Chapter 27: Throwing Open the Toy Box.

PART VI: The Part of Tens.

Chapter 28: Ten Educational Games That Enhance Your School Day.

Chapter 29: Ten Common Homeschool Fears.

PART VII: Appendixes.

Appendix A: Homeschooling Curriculum and Resources.

Appendix B: State by State Homeschool Associations.

Appendix C: Speaking the Language: Glossary of Educational and Homeschooling Terms.

Index.