Honesty Sells: How To Make More Money and Increase Business Profits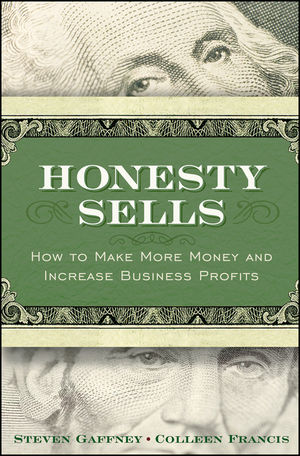 Honesty Sells: How To Make More Money and Increase Business Profits
ISBN: 978-0-470-47387-0 April 2009 224 Pages
Description
Looking for an edge in today's tough selling market? Honesty Sells challenges you to abandon clichéd sales techniques that rely on manipulation and deceit. Instead, by being honest and open with clients, you will be rewarded with long-term, profitable relationships—at the expense of no one but your competition...

PRAISE FOR HONESTY SELLS

"I've been in the field of sales leadership for twenty-four years with a major organization. I've recruited, trained, and developed thousands of salespeople over those years. Where has this book been? It should be a must-read for every new salesperson. This is a simple topic that isn't easy to execute day to day. Honesty Sells helps you change your mental map about how to approach business and relationships. Do the right thing....always!"
—Scott DiGiammarino, Group Vice President, Ameriprise Financial

"Honesty Sells has already made a huge impact in my business and it's a keeper. I recommend it for any business CEO trying to maximize and keep their profits."
—Richard Strauss, President, Strauss Radio Strategies, Inc.

"Honesty Sells is not just a book for salespeople. As a public relations professional, Gaffney and Francis's solid principles and coaching have helped me to develop and maintain relationships that are key to the success of my business."
—Avery Mann, Director of Media & Public Relations, FOX TV's America's Most Wanted

"Literally thirty minutes after absorbing their sales advice, I was on the phone applying concepts and strategies that enabled me to effectively move forward a deal accounting for 57 percent of my quota for the entire sales quarter. Here's the best part: this was during my first month on the job."
—Raj Shahani, Yahoo!

"Thank you so much for the inspiration. Your selling techniques were just the shot in the arm that this old veteran really needed. I have four new clients in just a week's time! Hip hip hooray!!"
—Nancy Daniels, Regional Director, HelmsBriscoe

"A top-notch sales pro who knows how to make progress in a difficult market. Bad economy. Government sales. Makes no difference—the job gets done."
—Paul Lemberg, Lemberg and Associates

"In addition to the practical and proven tips and techniques, this advice is based on extensive sales research and investigation with respect to what produces results. All the 'out of the box' suggestions are attention-getting but also get results!"
—Janet Armstrong, Director, Management Consulting, Ajilon Consulting
Acknowledgments.
Introduction Another Book on Sales? Why You Need to Read This Book.
CHAPTER 1 Top 10 Sales Hall of Shame: When Bad Salespeople Go Even Worse.
CHAPTER 2 Honesty—The Best Policy for Closing Sales and Growing the Business.
CHAPTER 3 The Startling Truth about Why Honesty Sells.
CHAPTER 4 Being Honest with Yourself.
CHAPTER 5 The Hidden Costs of Communication Breakdowns.
CHAPTER 6 Just the Facts—How Assumptions Impact Sales.
CHAPTER 7 Be a Life Giver.
CHAPTER 8 Getting the Truth from Everyone.
CHAPTER 9 Referral Selling: Ensuring Honest Relationships from the Start.
CHAPTER 10 The Start of Your Selling Relationship: Getting Started with an Honest Foot Forward.
CHAPTER 11 Close More Sales by Acknowledging Your Clients.
CHAPTER 12 The Honest Way to Close More Sales. More Often. More Quickly.
CHAPTER 13 Overcoming Objections and Questions.
CHAPTER 14 Turning a Onetime Client into a Lifetime Client.
CHAPTER 15 Remember to Practice Honesty Internally.
CHAPTER 16 Some Final Thoughts.
About the Authors.
Index.
?The book has methods that do not rely on old tricks, gimmicks or mind games. Instead, it shows you how to create immediate and lasting increases in your sales by selling yourself and your products, openly and honestly.? (Banana Q Business Buzz , October 2009)