Horizontal Alveolar Ridge Augmentation in Implant Dentistry: A Surgical Manual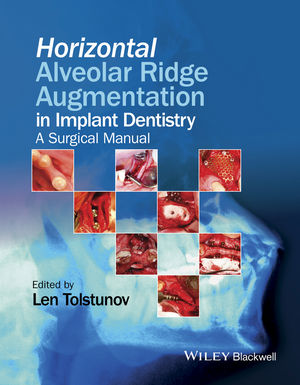 Horizontal Alveolar Ridge Augmentation in Implant Dentistry: A Surgical Manual
ISBN: 978-1-119-01990-9 December 2015 Wiley-Blackwell 360 Pages
Description
Horizontal Augmentation of the Alveolar Ridge in Implant Dentistry: A Surgical Manual presents the four main methods of horizontal ridge augmentation in a clinically focused surgical manual. After an introductory section and requirements for dental implants, sections are devoted to each procedure: ridge-split, intraoral onlay block bone grafting, guided bone regeneration, and horizontal distraction osteogenesis.

Chapters written by international experts in each augmentation procedure
Step-by-step instruction for each technique
More than 1,100 clinical photographs and illustrations
Contributors, vii
Preface, ix
Acknowledgments, xi
Introduction by Ole T. Jensen, xiii
Section I: Introduction
1 Introduction and Bone Augmentation Classification, 3
Len Tolstunov
2 Applied Surgical Anatomy of the Jaws, 7
Mohamed Sharawy
3 Bone Development and Histiogenesis of the Jaws, 19
Mohammed E. Elsalanty
4 Prosthetic Comprehensive Oral Evaluation in Implant Dentistry: A Team Approach, 25
Gary A. Morris
5 Orthodontic Implant Site Development, 43
Ugo Macca, Agatino Davide Mirabella, and Francesco Amato
6 Radiographic Evaluation of the Alveolar Ridge in Implant Dentistry. CBCT Technology, 55
Shikha Rathi and David Hatcher
7 Classification of Alveolar Ridge Defects in Implant Dentistry, 72
Patrick Palacci
8 Alveolar Ridge Augmentation: An Algorithmic Approach, 81
Alan S. Herford, Katina Nguyen, and Ayleen Rojhani
Section II: Guided Tissue Regeneration (GTR) with Particulate Bone Grafting in Implant Dentistry
9 The Biology of Particulate Bone Grafting in Implant Dentistry: Regenerative Materials of Choice, 93
Richard T. Kao, Mark C. Fagan, and Gregory J. Conte
10 Implant Site Development with Particulate Bone Grafts, 97
Gregory J. Conte, Mark C. Fagan, and Richard T. Kao
11 Horizontal Alveolar Ridge Augmentation Using Titanium Mesh and Particulate Bone Graft for the Treatment of Alveolar Ridge Defects, 107
John F. "Eric" Hamrick
12 Management of Complications of Guided Bone Regeneration, 120
Mark C. Fagan, Gregory J. Conte, and Richard T. Kao
Section III: Autogenous Block Bone Grafting for Horizontal Alveolar Ridge Deficiency
13 Autologous Intraoral Block Bone Grafting for Augmentation of Severe Atrophic Maxilla: Advantages of Combined Therapy, 127
Devorah Schwartz-Arad
14 Autogenous Block Bone Grafting from Extraoral (Distant) Sites for Alveolar Ridge Augmentation: Techniques and Surgical Considerations, 136
Erica L. Shook and A. Thomas Indresano
15 Alternative Intraoral Block Bone Grafting Techniques for Horizontal Alveolar Ridge Augmentation in Implant Dentistry, 153
Part A: Localized Alveolar Ridge Augmentation with Block Allograft, 153
Joseph A. Leonetti and J. Daulton Keith, Jr.
Part B: Maxillary Tuberosity Block Bone Graft, 166
Len Tolstunov
Section IV: Ridge-Split Procedure for Horizontal Augmentation of the Alveolar Ridge in Implant Dentistry
16 Diagnosis and Treatment Planning, 173
Len Tolstunov
17 Surgical Principles of the Ridge-Split Procedure, 185
Len Tolstunov
18 Mandibular Two-Stage Alveolar Ridge-Split Procedure, 192
Len Tolstunov
19 Maxillary Single-Stage Alveolar Ridge-Split Procedure, 200
Len Tolstunov
20 Advanced Ridge-Split Techniques for an Experienced Practitioner, 207
Len Tolstunov
21 Comparison of Ridge-Split and Block Grafting Techniques for Width-Deficient Alveolar Ridges, 213
Len Tolstunov
22 Alveolar Crest Spreading System for Horizontal Bone Augmentation in Implant Dentistry, 217
Bruno Ella-Nguema
23 Management of Complications of Ridge-Split Procedure and Conclusion (10 Commandments of Success with Ridge-Split Procedure), 226
Len Tolstunov
Section V: Alveolar Distraction Osteogenesis for Horizontal Ridge Augmentation in Implant Dentistry
24 Horizontal Alveolar Distraction Osteogenesis: Diagnosis and Treatment Planning, 233
Sami A. Nizam II and Shahid Aziz
25 Horizontal Alveolar Distraction and Periosteal Expansion Osteogenesis, 240
Kensuke Yamauchi and Tetsu Takahashi
26 Cortical Bone Repositioning Technique, 253
Kensuke Yamauchi and Tetsu Takahashi
27 Horizontal Alveolar Distraction Osteogenesis: Complications and Their Management, 259
Andrew Yampolsky and Shahid Aziz
Section VI: Soft Tissue Grafting for Implant Site Development
28 Soft Tissue Grafting for Implant Site Development: Diagnosis and Treatment Planning, Esthetic Evaluation, 263
Edgard El Chaar and Sarah Oshman
29 Techniques of Soft Tissue Grafting in Implant Dentistry, 271
Edgard El Chaar and Sarah Oshman
30 Management of Complications of Soft Tissue Grafting in Implant Dentistry, 282
Edgard El Chaar and Sarah Oshman
Section VII: Tissue Engineering in Implant Dentistry

31 Alveolar Bone Augmentation via In Situ Tissue Engineering, 297
Robert E. Marx
32 Growth Factors and Alveolar Bone Augmentation, 305
R. Gilbert Triplett, Jay P. Malmquist, and Sterling R. Schow
33 Platelet-Rich Fibrin: Natural and Biologic Blood Concentrate, 314
Joseph Choukroun and Alexandre-Amir Aalam
34 Practical Implications of Stem Cell Technology: Functional Tooth Restoration Using Bioengineered Organ Regeneration and Bio-Hybrid Artificial Organ Replacement, 319
Masamitsu Oshima and Takashi Tsuji
Index, 329
These two texts will benefit the clinician and their patients. Following the principles outlined in each chapter will certainly increase the clinician's confidence and improve predictability of case results. These texts are books that can and should be read and re-read many times by novice and seasoned clinicians. (Journal of Oral Implantology December 2016)