Horses For Dummies, 2nd Edition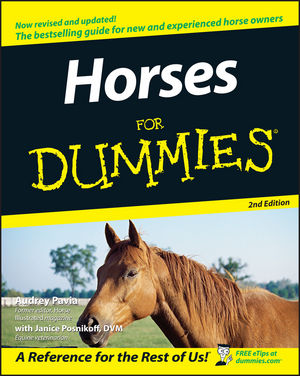 Horses For Dummies, 2nd Edition
ISBN: 978-1-118-05465-9 March 2011 384 Pages
Description
Features new full-color photos and online resources

Train, care for, and have fun with your horse

If you're crazy about horses, this hands-on guide is all you need to giddy up and go. Featuring updates on breeds, boarding, nutrition, equipment, training, and riding, as well as new information on various equine conditions, this resource shows you how to keep your horse happy - and take your riding skills to the next level.

Discover how to
* Select the right horse for you
* Feed, groom, and handle your horse
* Recognize common horse ailments
* Have fun in the saddle
* Get involved in equestrian competitions
Table of contents
Introduction.
Part I: Beginning with Horse Basics.
Chapter 1: Welcome to the World of Horses.
Chapter 2: Understanding Horses from Head to Hoof.
Chapter 3: Perusing Popular Horse Breeds.
Part II: Selecting a Horse and the Stuff that Goes with Him.
Chapter 4: Preparing to Make Your Purchase.
Chapter 5: Making the Big Buy.
Chapter 6: Getting into Gear with Horse Equipment.
Chapter 7: Housing Your Horse Comfortably.
Part III: Taking Care of Your Horse.
Chapter 8: Establishing an Everyday Routine.
Chapter 9: Keeping Your Horse Clean and Pretty.
Chapter 10: Preventing Equine Health Problems.
Chapter 11: Examining and Treating Equine Health Troubles.
Chapter 12: Giving Up Your Horse.
Part IV: Handling Your Horse with Ease.
Chapter 13: Working with Your Horse from the Ground.
Chapter 14: Selecting a Riding Discipline.
Chapter 15: Getting Ready Before You Mount.
Chapter 16: Taking Control in the Saddle.
Chapter 17: Staying Safe on (and around) Your Horse.
Chapter 18: Competing on Horseback.
Chapter 19: Riding for the Fun of It.
Part V: The Part of Tens.
Chapter 20: Ten Horse Myths.
Chapter 21: Ten Great Movies about Horses.
Appendix: Equine Resources.
Index.