Horticultural Reviews, Volume 13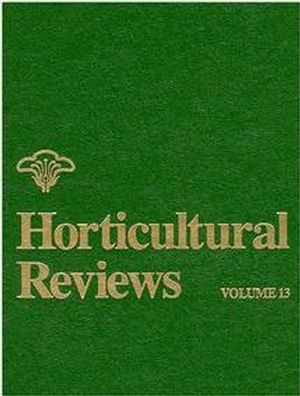 Horticultural Reviews, Volume 13
ISBN: 978-0-470-76796-2 April 2010 464 Pages
Description
Horticultural Reviews present state-of-the-art reviews on topics in horticultural sciences. The emphasis is on applied topics including the production of fruits, vegetables, nut crops, and ornamental plants of commercial importance. It is a serial that appears in the form of one hardbound volume per year.
Table of contents
Integrated Pest Management of Greenhouse Crops in Northern Europe(K. Sunderland, et al.).

Polygalacturonase and Tomato Fruit Ripening (J. Giovannoni, etal.).

Crop Physiology of Cassava (W. Splittstoesser & G.Tunya).

Preplant Physiological Seed Conditioning (A. Khan).

Environmental Influences on Seed Size and Composition (M.Fenner).

Formation and Spread of Ice in Plant Tissues (E. Ashworth).

Responses of Fruit Crops to Flooding (B. Schaffer, et al.).

Developmental Morphology and Anatomy of Grape Flowers (J.Gerrath).

Developmental Physiology of Rabbiteye Blueberry (R. Darnell, etal.).

Maturity Indices for Apple and Pear (C. Kingston).

Indexes.