Horticultural Reviews, Volume 2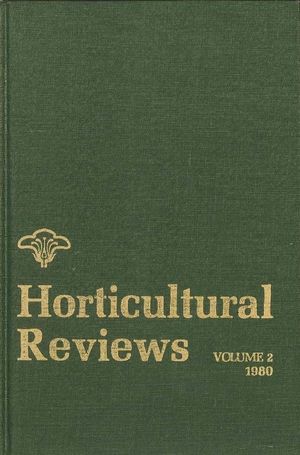 Horticultural Reviews, Volume 2
ISBN: 978-1-118-06075-9
Apr 2011
544 pages
Description
Horticultural Reviews presents state-of-the-art reviews on topics in horticultural science and technology covering both basic and applied research. Topics covered include the horticulture of fruits, vegetables, nut crops, and ornamentals. These review articles, written by world authorities, bridge the gap between the specialized researcher and the broader community of horticultural scientists and teachers.
DEDICATION.
1 The Short Life and Replant Problems of Deciduous Fruit Trees (U.L. Yadava and S.L. Doud).
2 Seed Viability During Long-Term Storage (L.N. Bass).
3 Nutritional Ranges in Deciduous Tree Fruits and Nuts (C.B. Shear and M. Faust).
4 The Lettuce Industry in California: A Quarter Century (Edward J. Ryder and Thomas W. Whitaker).
5 Light Interception and Utilization by Orchard Systems (John E. Jackson).
6 The Physiology of Asexual Embryogenesis (M.R. Sondahl, L.S. Caldas, S.B. Maraffa and W.R. Sharp).
7 Geneticsof Vigna (Richard L. Fery).
8 Ammonium and Nitrate Nutrition of Horticultural Crops (Allen V. Barker and Harry A. Mills).
9 The Distribution and Effectiveness of the Roots of Tree Crops (David Atkinson).
10 Light and Lighting Systems for Horticultural Plants (Henry M. Cathey and Lowell E. Campbell).
INDEX (VOLUME 2).
CUMULATIVE INDEX (VOLUMES 1-2).