Horticultural Reviews, Volume 33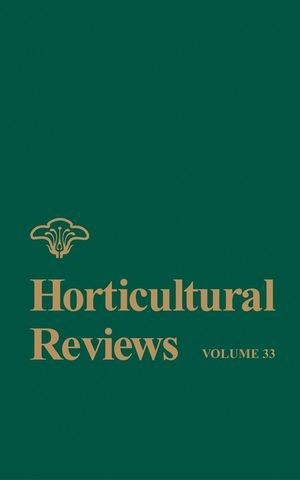 Horticultural Reviews, Volume 33
ISBN: 978-0-471-73214-3 January 2007 464 Pages
Description
Horticultural Reviews presents state-of-the-art reviews on topics in the horticultural sciences. The emphasis is on applied topics including the production of fruits, vegetables, nut crops, and ornamental plants of commercial importance. The title appears in the form of two volumes per year. These articles perform the valuable function of collecting, comparing, and contrasting the primary journal literature in order to form an overview of the topic. This detailed analysis bridges the gap between the specialized researcher and the broader community of horticultural scientists.
Table of contents
Contributors.
Dedication: Daniel J. Cantliffe (Peter J. Stoffella).
1. Genetic Resources of Kiwifruit: Domestication and Breeding (Hongwen Huang and A. Ross Ferguson).
I. Introduction.
II. Genetic Diversity and Germplasm Resources of Actinidia.
III. Natural Distribution of Actinidia.
IV. Domestication and Commercialization of Kiwifruit.
V. Origins of Kiwifruit Cultivars.
VI. From Genetic Diversity to Cultivar Development.
Literature Cited.
2. Garlic: Botany and Horticulture (Rina Kamenetsky).
I. Introduction.
II. Variability and Genetic Resources.
III. Plant Morphology and Effects of Environmental Factors on Annual Development.
IV. Fertility Restoration and Seed Production.
V. Propagation.
VI. Chemical Composition, Medicinal and Neutraceutical Traits.
VII. Horticultural Requirements.
VIII. Postharvest Bulb Storage.
IX. Concluding Remarks.
Literature Cited.
3. Black Pepper: Botany and Horticulture (V. A. Parthasarathy, B. Sasikumar, R. R. Nair, and K. Johnson George).
I. Introduction.
II. Taxonomy, Morphology, and Cytology of Black Pepper.
III. Horticulture.
IV. Breeding.
V. Biotechnology.
Literature Cited.
4. Biology and Management of Weedy Root Parasites (D. M. Joel, J. Hershenhorn, H. Eizenberg, R. Aly, G. Ejeta, P. J. Rich, J. K. Ransom, J. Sauerborn, and D. Rubiales).
I. Introduction.
II. Economic Impact.
III. Distribution.
IV. Developmental Aspects.
V. Management.
VI. Concluding Remarks.
Literature Cited.
5. Controlling Biotic Factors That Cause Postharvest Losses of Fresh Market Tomatoes (M. J. Mahovic, J. A. Bartz, and K. R. Schneider).
I. Introduction.
II. Factors Influencing Postharvest Loss.
III. Sources and Means of Fruit Contamination During Harvest and Handling.
IV. Controlling Biotic Hazards.
V. Conclusions.
Literature Cited.
6. The Master Gardener Program 1972–2005 (Mary Hockenberry Meyer).
I. Introduction.
II. Program Demographics.
III. Program Activities.
IV. Training and Management.
V. Program Training and Management Costs.
VI. Program Numbers and Impact.
VII. Future Direction and Challenges.
Literature Cited.
Subject Index.
Cumulative Subject Index.
Cumulative Contributor Index.