Hospitality Employee Management and Supervision: Concepts and Practical Applications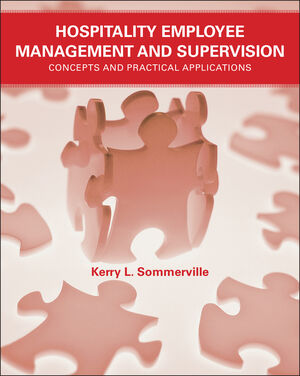 Hospitality Employee Management and Supervision: Concepts and Practical Applications
ISBN: 978-1-118-46254-6 July 2012 360 Pages
Description
In many hospitality establishments, one manager or supervisor is the entire human resources department, making all the hiring and training decisions, often without having a formal human resources background. Filling this knowledge gap, Hospitality Employee Management and Supervision provides both busy professionals and students with a one-stop comprehensive guide to human resources in the hospitality industry.

Rather than taking a theoretical approach, this text provides a hands-on, practical, and applications-based approach. The coverage is divided into four sections: legal considerations, employee selection, employee orientation and training, and communication and motivation.

Each chapter in this lively and engaging text features:
Quotations——Various practitioners in the hospitality industry highlight the chapter's focus
Chapter Objectives and Summaries lay out key concepts and then, at the end of each chapter, review them
HRM in Action features highlight real-world HRM experiences that relate to the content presented in each chapter
Tales from the Field——Hospitality employees provide accounts of the various challenges they face in the industry
Ethical Dilemmas——Scenarios from the hospitality industry which emphasize the role ethics plays in every aspect of the hospitality industry
Practice Quizzes and Chapter Review Questions reinforce student comprehension of key concepts
Hands-On HRM——Mini-cases based on real-world situations with discussion questions
Chapter Key Terms——Bolded within the chapter and then listed at the end of each chapter with definitions.
Preface.
Acknowledgments.
UNIT 1: THE LEGAL LANDSCAPE.
Chapter 1. Introduction to Hiring and Supervising Employees.
Chapter 2. The Hospitality Manager's Legal Challenges.
Chapter 3. Wage and Hour Laws Affecting Salaried, Hourly, and Tipped Employees.
Chapter 4. Common Law, Negligent Hiring, and Employee Rights.
Chapter 5. Working With Unions.
UNIT 2: THE EMPLOYEE SELECTION PROCESS.
Chapter 6. Job Descriptions and Job Specifications.
Chapter 7. The Employee Handbook.
Chapter 8. Advertising and Recruiting.
Chapter 9. Applications, Interviews, and Background Checks.
UNIT 3: ORIENTATION AND TRAINING.
Chapter 10. New-Employee Orientation.
Chapter 11. Training to Performance Standards.
UNIT 4: COMMUNICATION AND MOTIVATION.
Chapter 12. Performance Appraisals That Work.
Chapter 13. Effective Communication and Feedback.
Chapter 14. Employee Discipline.
Chapter 15. Employee Motivation Through Quality Leadership.
Index.
Each chapter in this lively and engaging text features:
Quotations—Various practitioners in the hospitality industry highlight the chapter's focus
Chapter Objectives and Summaries—Lay out key concepts and then, at the end of each chapter, review them
HRM in Action highlight real-world HRM experiences that relate to the content presented in each chapter. 
Tales from the Field—Hospitality employees provide accounts of the various challenges they face in the industry
Ethical Dilemmas—Scenarios from the hospitality industry  which emphasize the role ethics plays in every aspect of the hospitality industry
Practice Quizzes and Chapter Review Questions—Reinforce student comprehension of the key concepts covered in each chapter
Hands-On HRM—Mini-cases based on real-world situations with discussion questions are included at the end of each chapter
Chapter Key Terms—Bolded within the chapter and then listed at the end of each chapter with definitions