Hospitality Information Systems and E-Commerce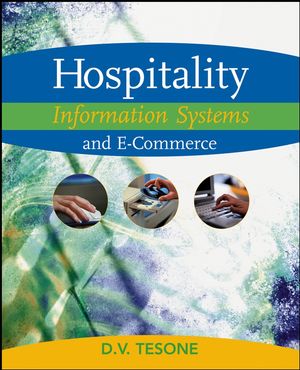 Hospitality Information Systems and E-Commerce
ISBN: 978-0-471-47849-2
Mar 2005
304 pages
Description
Hospitality Information Systems gives hospitality managers the tools they need to effectively use technology to benefit their business.  Beginning with a focus on information technology basics and continuing on to explanations of hardware, software, and technology initiatives prevalent in all aspects of the hospitality industry, this groundbreaking first edition puts an emphasis on management decisions necessary to effectively purchase, implement and execute technology initiatives in a hospitality facility.  Hospitality Information Systems gives hospitality managers an edge in conversing with technology professionals, and empowers readers with management awareness and terminology comprehension as it relates to the hospitality industry.
Preface
Acknowledgments
PART I. GENERAL APPLICATIONS
Chapter 1. Understanding Hospitality Information Systems and Information Technology
Chapter 2. Computer Hardware for Hospitality
Chapter 3. Computer Software for Hospitality
Chapter 4. Computer Networks and Telecommunications for Hospitality
PART II. HOSPITALITY MANAGEMENT AND THE INTERNET
Chapter 5. Electronic Commerce (E-Commerce)
Chapter 6. E-Information and Distribution Systems
Chapter 7. E-Business Strategies and Solutions
PART III. HOSPITALITY FUNCTIONAL APPLICATIONS
Chapter 8. Computer Reservations Systems (CRS) and Global Distribution Systems (GDS)
Chapter 9. Property Management Systems (PMS) and Point of Sale Systems (POS)
Chapter 10. Accounting Control and Production Systems
Chapter 11. Marketing and Human Resources Management Systems
Chapter 12. Safety, Security, and Physical Plant Systems
Glossary
Index
Covers technology used in each segment of the hospitality industry (i.e. hotel, restaurant, tourism, cruise ships).
Wide use of industry examples illustrates the influence of technology on management and customer service.
Emphasis on E-Commerce and its impact on the hospitality industry; how it works and how managers can implement successful E-Commerce strategies.
"On-the-Job" scenarios set the stage and conclude each chapter to provide readers with an application of the topics covered.
"Tech Talk" features interviews with information technology professionals in the hospitality industry.
Includes a complete glossary of technology terminology, as well as margin definitions for easy reference.