Hospitality Management Accounting, 9th Edition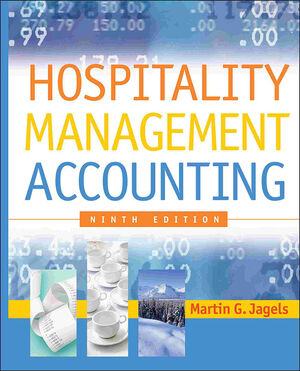 Hospitality Management Accounting, 9th Edition
ISBN: 978-0-471-68789-4
Mar 2006
608 pages
Description
The success of every business in the hospitality industry depends on maximizing revenues and minimizing costs. Hospitality Man-agement Accounting, Ninth Edition continues its time-tested presentation of fundamental concepts and analytical techniques that are essential to taking control of real-world accounting systems, evaluating current and past operations, and effectively managing finances toward increased profits.  This accessible Ninth Edition offers hands-on coverage of computer applications and practical decision-making skills to successfully prepare readers for the increasingly complex and competitive hospitality industry.
Preface.
Chapter 1: Basic Financial Accounting Review.
Chapter 2: Understanding Financial Statements.
Chapter 3: Analysis and Interpretation of Financial Statements.
Chapter 4: Ratio Analysis.
Chapter 5: Internal Control.
Chapter 6: The "Bottom-Up" Approach to Pricing.
Chapter 7: Cost Management.
Chapter 8: The Cost-Volume-Profit Approach to Decisions.
Chapter 9: Operations Budgeting.
Chapter 10: Statement of Cash Flows and Working Capital Analysis.
Chapter 11: Cash Management.
Chapter 12: Capital Budgeting and the Investment Decision.
Chapter 13: Feasibility Studies—An Introduction.
Chapter 14: Financial Goals and Information Systems.
Glossary.
Index.
Detailed and consolidated coverage of straight-line, units-of-production, sum-of-the-year's-digits, and double-declining depreciation methods
Updated material on inventory control methods, with emphasis on perpetual inventory
Extensive information on the use of computer applications and inventory control software
A sequential presentation of statement of cash flows and working capital
New end-of-chapter exercises and problems that have been thoroughly checked for accuracy
Contains numerous pedagogical features in each chapter, including key terms, chapter summaries, exercises, problems and case studies
Accompanied by a complete ancillary package, including an instructor's manual and student workbook
Provides a consolidated, in-depth review of the fundamentals of accounting
Insight into the analysis and interpretation of financial statements
Statements of cash flows discussed alongside working capital
A cost-volume-profit approach to decision making and cost management
Detailed focus on the operating budget and cash budgeting