Hospitality Marketing Management, 6th Edition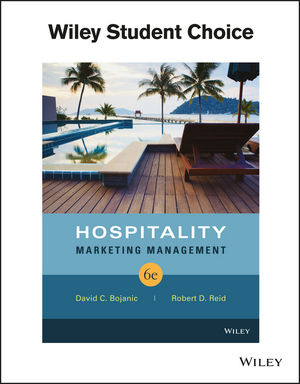 Hospitality Marketing Management, 6th Edition
ISBN: 978-1-119-19512-2 August 2016 384 Pages
Download Product Flyer
Download Product Flyer
Download Product Flyer is to download PDF in new tab. This is a dummy description. Download Product Flyer is to download PDF in new tab. This is a dummy description. Download Product Flyer is to download PDF in new tab. This is a dummy description. Download Product Flyer is to download PDF in new tab. This is a dummy description.
Description
Hospitality Marketing Management, 6th Edition explores marketing and themes unique to hospitality and tourism. The 6th edition presents many new ideas along with established marketing principles, exploring not only the foundations of marketing in the hospitality world but also new trends in the industry.
Table of contents
Preface
Acknowledgments
Chapter 1 Introduction to Hospitality Marketing
Introduction
The Marketing Mix
Services Marketing
Destionation Marketing
Service Trends Affecting the Hospitality and Tourism Industry
Case Study: Campus Center Hotel
Case Study: Location, Location, Location?
Chapter 2 The Marketing Environment and Sustainability
Introduction
The Marketing Environment
Sustainable Development
Managing for Sustainability
Case Study: Arizona Hotel Resort and Spa
Case Study: Bushwood Country Club
Chapter 3 Understanding the Behavior of Hospitality Consumers
Introduction
Factors that Influence Consumer Behavior
Consumer Decision-Making Model
Consumer Problem-Solving Processes
Consumer Problem-Solving Techniques
Organizational Buyer Behavior
Case Study: Spring Break Vacation
Case Study: Tempura Garden
Chapter 4 Market Segmentation and Positioning
Introduction
Segmentation Variables
Market Segmentation Decisions
Market Segmentation Strategies
Positioning the Product–Service Mix
Case Study: Destination Market Segments
Case Study: Segmenting and Positioning in the Cruise Industry
Chapter 5 Developing a Marketing Plan
Introduction
Marketing Plans
The Marketing Planning Process
Sales Forecasting
Case Study: Kilts and Ale
Case Study: Planning at the Westwind Resort
Chapter 6 Information for Marketing Decisions
Introduction
Sources of Marketing Information
The Marketing Research Process
Destination Research
Ethical Issues in Marketing Research
Case Study: The Biggest Loser Resort
Case Study: Bel Air Motel
Appendix: Data Collection and Sampling
Chapter 7 Pricing Strategy
Introduction
Factors that Affect Pricing Decisions
Broad Pricing Strategies
Pricing Techniques and Procedures
Segmented Pricing
Revenue Management
Pricing Law and Ethics
Case Study: Airline Pricing (Internet application)
Case Study: The Pasta Shack
Chapter 8 Developing New Products and Services
Introduction
Planning for New Products
Organizing for New Product Planning
New Product Development Process
Identifying Products and Services
Destination Product Development
Case Study: Product Development Dilemma at Rocco's
Case Study: The Development of Seasons 52
Chapter 9 Managing Products and Services
Introduction
Product Life Cycle
Developing Strategies using the Product Life Cycle
Resource Allocation Models and Applications
Managing in the Service Environment
Techniques to Assess Customer Satisfaction
Case Study: Starbucks Coffee
Case Study: Service Quality at the Excelsior Hotel
Chapter 10 Distribution and Supply Chain Management
Introduction
Distribution Strategy
Franchising
Case Study: Ice Cream Heaven
Case Study: The Wing Shack
Chapter 11 Electronic Commerce
Introduction
The Scope of Electronic Commerce
Electronic Commerce Strategy
Internet Strategies
Case Study 1: Hospitality and Tourism Web Site Analysis
Case Study 2: Electronic Commerce Strategy at Malone Golf Club
Appendix: Web Site Evaluation Sheet
Chapter 12 Integrated Marketing Communications
Introduction
Managing the Promotional Mix
Managing the Advertising Function
Planning and Evaluating Advertising Campaigns
Criticisms of Advertising
Case Study: The Glen Pub
Case Study: Mr. C's Sandwich Shoppes
Chapter 13 Advertising and Social Media
Introduction
Developing Media Plans
Print Media
Broadcast Media
Direct Mail
Support Media
Social Media
Case Study: Social Media Use by Restaurants
Case Study: Advertising Decisions for the Alexandria Inn
Chapter 14 Sales Promotions and Public Relations
Introduction
Sales Promotions
Merchandising
Public Relations
Case Study: Restaurant Sales Promotions
Case Study: Promotion at Princess Suites
Chapter 15 Personal Selling
Introduction
Selling to Group Markets
The Personal Selling Process
Personal Selling Tools
Ethical Issues in Personal Selling
Case Study: College Sports Team (Role Play)
Case Study: Atlantis Resort
Glossary
Index
New To This Edition
New Chapter 2, on the marketing environment and sustainability. In keeping with current industry trends, a new chapter has been written to combine the components of the external marketing environment and sustainability practices in hospitality and tourism.
More coverage of the Internet and technology. In this edition, the added coverage of the Internet and technology was continued, including a section on social media under advertising and promotion.
More coverage of the tourism industry within each chapter. The book now covers destination marketing in the introduction chapter, the information systems for marketing decisions chapter, the new product development chapter, the product management chapter, and the sales promotions and public relations chapter. In addition, there are new cases related to tourism.
More coverage of international marketing. The importance of a global economy directly affects the hospitality and tourism industry. As in past editions, an effort was made to provide more international examples and references throughout the book to illustrate this trend.
New case studies. Fourteen new case studies were added to this edition, and each chapter now contains two case studies.
Features
Takes an applied approach to exploring the foundations of marketing in the hospitality industry and its unique themes.
Explores the rapidly evolving world of ecommerce and its impact on hospitality marketing.
Provides insight into consumer behavior and how firms can segment markets and target customers.
Identifies strategies for promotion in the hospitality industry.