Hospitality World!: An Introduction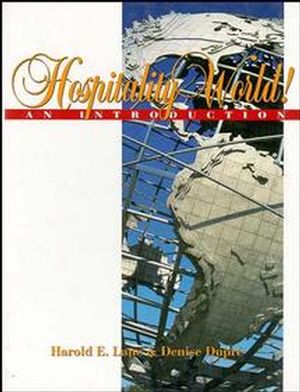 Hospitality World!: An Introduction
ISBN: 978-0-471-28989-0
Sep 1996
560 pages
Description
Hospitality World! Harold E. Lane and Denise Dupré Take a vacation from textbook doldrums. Travel around the globe for a page-turning perspective of hospitality management. Denise Dupreé. CEO of Dupré LTD, and Harold E. Lane, Professor Emeritus of Boston University, give students a complete tour with their comprehensive new text, Hospitality World! International in scope, this innovative book takes a hands-on approach to the industry. Case scenarios and skill-building exercises give future managers a framework to develop their personal visions. Highlights of the practical, up-to-date approach begin in the first section where the Olympic torch is held high to illuminate the intricacies of tourism management at the 1996 Olympic Games. Then it's off on a world-wide tour from the perspective of several lodging owners and restaurateurs. Amidst the challenge of the text, Hospitality World! covers the basics—from the history of the industry to current developments. The complex management concepts of human resources, marketing, management information systems, and accounting are made simple. Students use what they learn about lodging and foodservices, entertainment, travel distribution channels, and transportation to solve complex case questions. The final case study investigates the international world of Disney. Ethics and service are also explored, focusing on the issues and trends that managers face today. Hot topics include branding, diversity, ecotourism, strategic alliances, and technology applications. Authors Lane and Dupré offer their fresh and inspired view of the industry, arming readers with the tools to succeed in the fast-paced and exciting Hospitality World!
OVERVIEW.

Hospitality's History: Then and Now.

The Big Picture.

The Hospitality Business is a Service Business.

An International Perspective.

Tourism Visited.

PLACES TO STAY.

Lodging: More Than Hotels.

How Things Work: Lodging Operations.

PLACES TO EAT.

Foodservice: More Than Restaurants.

How Things Work: Foodservice Operations.

MANAGEMENT TOOLS.

A Human Resources Tool Box.

A Hospitality Marketer's Tool Box.

A Management Information Systems Tool Box.

An Accounting Tool Box.

STRUCTURAL ELEMENTS OF THE HOSPITALITY INDUSTRY.

So You Want to Own a Hotel?

So You Want to Own a Restaurant?

ISSUES AND TRENDS.

Business Ethics.

Strategic Thinking: Looking Toward the Twenty-First Century.

FOR STUDENT ONLY.

Taking Your Place in the World of Hospitality.

The World of Disney Mini Cases.

Index.