Hotel Front Office Management, 4th Edition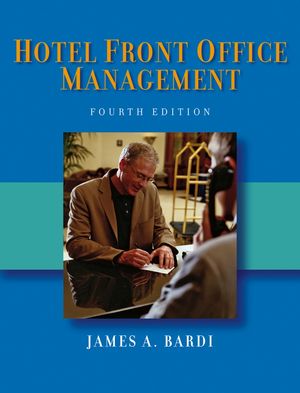 Hotel Front Office Management, 4th Edition
ISBN: 978-0-470-07363-6 May 2006 480 Pages
Description
The updated guide to running a successful hotel front office
Hotel Front Office Management uses a human resources approach to cover the unique management and operational challenges in the front offices of today's hotels and lodging facilities. This Fourth Edition continues its emphasis on applying theory and management strategies, as well as providing updated material on technology's role in the modernized front office.
Material is logically presented in the order of operations, beginning with an overview of lodging and then progressing through a tour of the today's front office, a review of the guest cycle, and an analysis of guest services. This Fourth Edition includes new sections on hotel risk management, security, and housekeeping management.
Useful features of this new edition include:
A new chapter on executive housekeeping and the relationship between the housekeeping department and the front office
Commentaries from hotel front office managers, general managers, and other department managers
Articles on the international hotel workforce
"Opening dilemmas" and their solutions are included in each chapter
Additional case studies for applying theory and developing problem-solving strategies
Hotel Front Office Management, Fourth Edition is an invaluable book for those interested in learning more about a hotel's front office.
Table of contents
Preface.
Acknowledgments.
Chapter 1: Introduction to Hotel Management.
Chapter 2: Hotel Organization and the Front Office Manager.
Chapter 3: Effective Interdepartmental Communications.
Chapter 4: Property Management Systems.
Chapter 5: Systemwide Reservations.
Chapter 6: Revenue Management.
Chapter 7: Guest Registration.
Chapter 8: Managing the Financials.
Chapter 9: Guest Checkout.
Chapter 10: Preparation and Review of the Night Audit.
Chapter 11: Managing Hospitality.
Chapter 12: Training for Hospitality.
Chapter 13: Promoting In-house Sales.
Chapter 14: Security.
Chapter 15: Executive Housekeeping.
Glossary.
Index.
New To This Edition
A new chapter on Executive Housekeeping
Practical case-study problems in each chapter
Commentaries from hotel front office managers, general managers, and other department managers
Articles on the international hotel workforce
Additional case studies for applying theory and developing problem-solving strategies
Each chapter has an opening dilemma, solution to opening dilemma, frontline realities, and case studies. New photos, new and revised hospitality profiles, international highlights, and end-of-chapter questions have been added throughout
Features
Covers the management and operation of the front office of a hotel or lodging facility using a human resources approach
Includes commentaries from hotel front office managers, general managers, and other department managers
Contains case studies, industry profiles, and international articles